Fans of Georgette Heyer will feel a quiet sense of satisfaction at the news that English Heritage are to place one of their Blue Plaques on her first home in Wimbledon next month. It is another step towards the public acknowledgement of a truth which, if not yet held universally, has been acknowledged by countless people all round the world for a long, long time. She is a Treasure.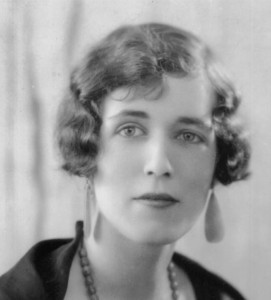 But, as is the case with so many Treasures, we can't all agree why and, like every writer I know, she does have her detractors.  (Shakespeare? Couldn't plot for toffee. When people praised WS's manuscript for his 'never blotting out line', Jonson wittily replied, 'Would he had blotted a thousand.'  Killer punch there, Ben.)
Carmen Callil, a woman of whose publishing achievements I am in awe, allegedly opined that Heyer took Jane Eyre and rejigged it 57 times. Not true – Heyer never really hit the Gothick note. And even her most enigmatic and brooding hero has a sense of the ridiculous, which neither Mr Rochester nor Jane quite manages. But I completely see why a lively feminist publisher would take agin books in which the highest good to which the heroine aspires is marriage to an eligible –i.e. always wealthy, often titled — man.
More seriously, an Editorial Director I much admire told me a few years ago that Heyer had badly needed editing. I don't know how that would have played with the strong-minded Heyer. From her career-long vituperative joust with the respected editor of Woman's Journal, Dorothy Sutherland (who tried) I suspect that Heyer wouldn't have put up with it. And if a publisher insisted, it might have shut her up for good. The loss doesn't bear thinking about.
Mind you, Sutherland's preferred title for Regency Buck wasn't great, even without the connotations that have accrued to it since 1935. And her strap line? Words fail me.
 -in the Dare-Devil Days when Men Were Men and Women Seductively Coy!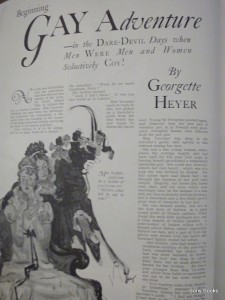 So what is the evidence that Georgette Heyer is a Treasure?  Well, many, many authors love her – and not just those writing in the Regency genre like New York Times Best Seller
Jo Beverley
but Booker Prize Winner A S Byatt*,  
Kate Fenton
, 
Emma Darwin
 . (Note the span of generations there.) And many more. I admit to being comforted when I found that Heyer, too, played patience while theoretically writing. If it was good enough for Her . . .
But I don't mean to talk about my own opinions here. These are not my ideas, but those of her millions of readers. For since the Blue Plaque announcement, I have been trotting through the Forest of Internet in search of Heyer fans and found — well, overwhelmingly more than I expected. Of course there are the Heyer Appreciators, many of whom are to be found at Almacks.  And from Mumsnet through The Guardian to Jane Austen blogs and uncountable numbers of bloggers — some loving her for ever, some  just discovering her, some arguing furiously over where she did and didn't do what they wanted (Smart Readers Trashy Books is really good at that) —  Heyer's work is considered seriously by a very high class of reader indeed. They are thoughtful, principled and often terrifyingly well- informed. I take my hat off to them.
So Miss Heyer's readers say:
she's writes a cracking good story
she's witty and so are her characters
in fact humour is the first reason many people read her
romantic situations are well drawn, romantic satisfaction variable – but since some readers adore a book that others hate, that probably reflects temperamental differences as much as anything
her style is a delight
she takes you into a fully realised, detailed world
her sense of period feels spot on
her history is well-informed and perceptive – also accessible
her characters have life, fire and principles, even when they're not very good ones
her secondary characters are all three dimensional, intrinsic to the story and sometimes delicious
her books differ  more widely than you'd expect or than she herself seems  to have thought
they re-read her, sometimes again and again, over their whole lives
the good end happily in her books and if the bad don't end badly, there is nevertheless a sense that justice has been done
she gets you through bad times
she both observes and explodes genre expectations (bit narrow this one, but it interests me, so I've bunged it in)
she crosses generations – I noted how often the commentator found Heyer's books on the shelf of a mother, grandmother, family friend or shared the long loved pleasure with a daughter or granddaughter.
she is reticent, not just about her personal life but about the emotional development of her characters and their experience of falling in love. (I'm going to come back to this. I think it's true, especially in her quieter books and I have come to like it. Some readers don't so much.)
she's fun
with substance
Don't think they missed much. We should all have such readers. Hope Miss Heyer would have appreciated them.
STOP PRESS
Attendance at the blue plaque unveiling is now up to capacity.
I'll maintain a waiting list, if anyone would like to come and doesn't mind waiting to see whether there's room. Sorry about that, but delighted that so many people want to come and celebrate Georgette Heyer and her work.
*Byatt, A. S. "An Honourable Escape: Georgette Heyer." Passions of the Mind: Selected Writings. London: Chatto & Windus, 1991. 258-65.
—. "The Ferocious Reticence of Georgette Heyer." Sunday Times Magazine 5 Oct. 1975: 28-38. Rpt. In Georgette Heyer: A Critical Retrospective. Ed. Mary Fahnestock-Thomas. Saraland, AL: PrinnyWorld, 2001. 289-303.
A Little Owl Moment is when time stops for a second. The world floods with delight and hope. And memory grabs it.
In Gloucestershire, there is a small charity which advances the conservation of British owls and other raptors and rescues the wounded and ill-treated. It is called The Barn Owl Centre. I learned about it a few weeks ago. I am so glad it exists. Please help it, if you are too.
The owl is the bird of Athena, goddess of wisdom, inspiration and civilisation and fangirl of  the hero Achilles. No surprise, then, that owls appeal to writers – from an anonymous mediaeval minstrel, through Shakespeare and Robert Browning to T H White and J K Rowling.  And me.
Once I lived in a cottage at the bottom of a hill, surrounded by woods and fields. It was not a happy time. The present was out of control and the future scared me.
Then, one night I came home late. In the light of a wonky Victorian lamp post, I could see something sitting on the dry stone wall round the cottage. The thing was quite small, hunched and rather shapeless. Someone must have found  a child's toy and left it there to be reclaimed, I thought. I went to open the gate –  and the shapeless thing rotated its head an impossible degree and opened its eyes at me.
Now Little Owls, for such it was, do eyes in a big way.  Pantechnicon headlights could take their correspondence course. Glaring at you from a distance of twenty feet or so in the dark, they have quite an effect. I recoiled, stumbled and slid into the ditch that ran beside our garden wall. The Little Owl shuffled away along the wall about fifteen feet or so and carried on glaring. If ever an owl said, 'Bugger off and let me get on with finding supper,' that one did. Wet, muddy, and more than a bit whiffy (it was not one of your purling stream sort of ditches) I began to laugh.
I have seen them two or three times since, over the years. Every time it's special. Totally absorbing, humbling, profoundly satisfying. What my friend Karin calls a levitating experience, in fact.  So 'Little Owl Moments' has become my personal shorthand for that sensation of time  standing still and everything being in harmony. Rare. Magic.
Last time I really saw one – well two, actually- it was late afternoon, and I had a newly broken wrist and an unfinished book that would have to go on hold for months as a result. But even so – the Little Owls, fossicking about, alert for prey, flexing those mechanical grab talons, and generally doing their thing, took me out of self-pity, cheered me up and generally made me feel that Something Good  Would Come of This.
They are beautiful, of course, with that brown and ivory plumage, as if apple blossom has been dumped over them and they aren't too pleased about it.  But that expression is what I particularly cherish. Permanently disgruntled. My  Consultant Birdwatcher tells me that even proper ornithologists, sworn enemies of anthropomorphism, refer to it as 'serious'.  (Little Owls  can also look interested, suspicious, busy and  quizzical, but don't tell the Birdwatcher.)
As well as conservation and study, the Barn Owl Centre of Gloucestershire rescues injured and mistreated birds and releases those which can make it in the wild.  It hosts photography days, where a selected number of photographers can meet the permanent residents and its image gallery is just breathtaking.  It is staffed by volunteers who care for the birds (enduring sadness when some don't have a happy ending, as well as the huge buzz when they fly off free or settle happily into their new home) and educate the visitors.
And now they're trying to raise funds as well. Please show them their efforts are valued; protect the birds; donate online here .  And  give yourself a Little Owl moment.
Please note that all photographs in this post are the copyright of the Barn Owl Centre to whom I am indebted for permission to use them here. 
For the last year I have had a professional task which I have found almost impossible. It has made me think about writing in quite a new way. And also about how much the reader always brings to a book. For a first read, the writer is a sort of  tour guide to the author's interior landscape and the world of the story.  But what the reader takes away is so much more than what the guide actually says. It depends on the reader's habits, tastes, experience, expectations and even previous reading.
This month I found The Martian by Andy Weir.  I fell over it by chance, browsing. It's science fiction, a genre I like rather than love and by which I am often disappointed. This one was brilliant.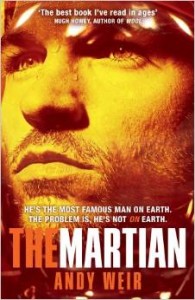 I ended by sitting up until 3.45 am to finish it because I couldn't go to sleep without knowing the end. But it was about so much more than the ending. It sets up a series of dilemmas which mostly seem irresolvable until a cast of believable characters apply brain, body and will. The stakes are life or death right from the start — and then they escalate! The sciences — physics, chemistry, thermodynamics, even agriculture – almost become characters.  One by one they are tested and may or may not betray our hero.  I was on the edge of my seat, not just at the end but again and again throughout this thrilling book.
Now I need to buy a physical copy; e-book is not enough. This is one I will re-read, probably many times. Why did I LOVE it so?
Well, excitement, obviously. It's a cracking book by anyone's standards, written with passion. Andy Weir sounds an interesting guy from his interview, a self-proclaimed nerd who initially self-published his book of the heart. He might not call it that, of course. But note: he says 'The deeper into the book I got, the more excited I became.' Yup. Been there. Bliss. And it leaks out to the reader, believe me.
But what did I, the reader, bring to the experience? Me, non scientist, non nerd? I'm even terrified of changing from Windows XP, for God's sake.
Though I did enjoy physics at school. And, of course, I plant stuff and sometimes it grows. That's two things I share with The Martian.  I like the way he goes about it, too. He evaluates, considers his options, works out an idea in principle, refines it. Yes, I do that. Sometimes. Then he puts his plans into practice in an orderly way. Um no, I could learn from him there.  And he's attractive. He feels all the things that I would feel but he doesn't panic. And he's heroically fair and philosophical. I find both pretty sexy.
In fact I once asked a group of romantic  novelists which was the quality they most loved in a hero: looks? wealth? power? sophistication? biting wit? fond-of-dogs?  'Competence,' said one. Ah yes. We all went a bit dreamy. Well, the Martian is definitely the sort of guy who could put up a shelf and start the car on a cold day, if that's your preferred lust object.
And I have been in love with one of the Martian's literary ancestors for most of my life. In Victorian England a retired Naval Officer called Marryat wrote a book for children about a family of Royalist orphans who were rescued and hidden by their gamekeeper after the Battle of Naseby. Marryat was  definitely a Cavalier by inclination and his hero is undoubtedly the hotheaded eldest son. But I loved his younger brother, Humphrey, who works out how to damn streams, catch eels and generally make life manageable and, above all, interesting.
But then, in reading The Children of the New Forest, I had already picked up the 10066 And All That view of the Civil War – Cavaliers, wrong but romantic; Roundheads, right but revolting. And to be fair to Marryat, he does manage one decent Roundhead, at least.
The world of The Martian is Roundhead-free. Nor is this science fiction with monsters and aliens. This is about real people. Lots of them. Yes, our hero is on his own. We  tune into his interior monologue, all of it, including the stuff he doesn't tell anyone else, even when he can. It is like being in our own heads. But there's all the other people involved. There they are, wheeling remotely like the rings of Saturn – close colleagues, family, Management which could make a story in itself) along with office politics, media politics, even, at one point and very convincingly, international politics.  The decisions in this book are not wholly the Martian's. Other people's plan are crucial to his survival. And everybody makes mistakes.
So there's
exciting plot
author persuasiveness (bit mealy mouthed but can't think of another short way to describe it)
fabulous hero
world of the story
AND? – well, humanity.
The Martian has a generosity of spirit about his fellow man, as we learn in the first couple of pages, while he's calculating how long he's got to live.   Mostly he's not wrong.  It makes for a mind-blowing  climax.
Great character. Great book.
Welcome to the first guest I have hosted on my blog, distinguished novelist  Beryl Kingston, whose Easter Empire trilogy (inspired by the fact that a woman founded WH Smith) was a favourite, long before I met her, let alone enjoyed the privilege of her friendship.  
Like me, she has been tagged to contribute to the Writing Process blog roll, in her case by lovely Mary Stewart-inspired author, Jan Jones.  Over to Beryl 
My Writing Process
What am I working on?
This is going to sound like showing off but at the moment, after three and a half years when I couldn't write at all, I'm polishing off a collection of poems, a play about William Blake's trial and a novella about a conceited cat, all of which are taking me in different directions.
How do my stories differ from others in my genre?
I suppose the honest answer is that I don't know. My first agent, the renowned Darley Anderson wanted me to be classed as 'a romantic writer'. I never thought I was.
Why do I write?
I started writing when I was seven because I knew I wasn't allowed to tell anybody about what was happening to me and I had to tell someone so I wrote it all down in a diary, which was private. Now it is because I enjoy it and there are always tales to tell.
How does my writing process work?
I used to assume that my writing method was more or less what other writers did, if I thought about it at all, but then I got to know other writers and discovered I was odd. There is a pattern to it though and a method, of sorts, and it works for me.
I spend about three months getting to know my main characters, what they think and why, how they talk to a variety of people, what and who have made them what they are. I do it until I can live in their skin. It's rather like method acting. At the same time I visit the settings for my story. (I used to love doing that when Roy was alive. It was like a holiday.) I try to find a different setting for each new book and make several visits in the course of a year so as to see the place in all four seasons and different kinds of weathers. I fill notebooks with as much detail as I can get. Then when I'm living under the skin of my protagonists, and the plot has begun to form out of all the things that are going to happen to them, I start to write.
I don't begin at the beginning of the book and plough on doggedly until 'The End'. I'm much too self-indulgent for that. I start with the scene that's singing to me most strongly. In my first book it was the moment my hero sees the woman he's going to marry, in another it was the Battle of Trafalgar, in another it was when my heroine meets up with anti-road protesters and sees her first demonstration. Then I move on to other scenes I fancy. When I've got what I call a run, a series of scenes that ought to run in sequence, I stitch them together. It's rather like making a patchwork quilt and it's a very useful part of the process because, if I'm reading something and it's boring me because I want to get on to the next 'good bit', I simply cut it out, and if I see moments that have – or will have – 'echoes' I can work on them too. Eventually so many runs are stitched together that I have a book. It's a very satisfactory way to write – at least for me – although it does look a muddle.
Such sad news that wonderful Mary Stewart died on 9 May. I have been watching again the interview she gave to Off the Page on Scottish television.
In 2006 the Romantic Novelists' Association gave Mary Stewart a Lifetime Achievement Award. I collected the tributes. From my own archive, as far as I can tell, this is what we told her then.
The Romantic Novelists' Association salutes
Mary Stewart
and says thank you for
hours of wonderful reading
and
for inspiring so many of us
18th August 2006
From RNA Members
Diane Pearson writes
Mary Stewart, almost single handed, brought the gothic romantic novel back into contemporary popularity, giving it a unique new quality that was essentially her own. Her books are now household names.
Diane Pearson, editor and author, wrote international best sellers 'Czardas' and 'Summer of the Barshinskys', among others, and [is] was President of the Romantic Novelists' Association.
Jan Jones writes
"It was the egret, flying out of the lemon-grove that started it."
That, the opening line from The Moonspinners, sums up what Mary Stewart means to me. The to-die-for sense of place expressed in just a few skilful words. The delicious hint of adventure and romance. The promise of a glorious few hours, curled up with one of my favourite authors, oblivious to the outside world.
I could read Mary Stewart's books over and over – and every time I do, I'm transported again to that precious state where nothing else matters except what you are reading.
Thank you, Mary.
Jan Jones is the author of 'Stage by Stage', winner of the 2005 Joan Hessayon Award for a First Novel and many others,most recently 'Fairlights'.
Pamela Hartshorne writes
Mary Stewart's writing is such a model of intelligence and good taste, that I can't help feeling she would have little patience with gushing appreciation . … but it is hard not to gush when I think about the enjoyment she has given me as a reader, and the influence she has had on me as a writer. Impossible, too, to choose which of her books is my favourite. I can narrow it down to six (Madam Will You Talk?, This Rough Magic, My Brother Michael, The Moon-Spinners, Airs Abover the Ground and Nince Coaches Waiting) but no further. Every time I read these books, I find something new, something that strikes a chord, something that makes me think "What must it be like to be able to write like that?"
I love the intelligence and integrity of her characters, the way her heroes are barely described and yet are so extraordinarily attractive, but I think what draws me to these books most particularly is the sense of place they evoke, so that I fell when I close the book as if I have actually been on a Greek mountainside, or swum with a dolphin in Crete. And as for the food . . . ! Anyone who has ever read Madam, Will You Talk? remembers the wonderful meal Charity shares with Richard Byron in the Stewart fans, comparing it with the midnight feast after the Easter Ball in Nine Coaches Waiting or the dinner at Delphi in My Brother Michael, all remembered as vividly as if we had eaten them ourselves. It is thirty-five years since I first read a Mary Stewart, but her lucid, luminous prose remains a matchless source of pleasure and inspiration.
Pamela, who also writes as Jessica Hart, is a multi prize winner. In 2005 she won the US RITA for Best Traditional Romance for Christmas Eve Marriage and in 2006 the RNA Romance Prize for Contracted Corporate Wife. Her  most recent novel is 'The Memory of Midnight'.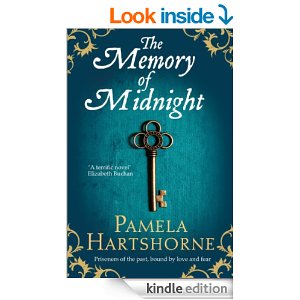 Marina Oliver writes
Mary Stewart is a storyteller par excellence. Not only can she evoke great tension, her plots are intricate and satisfying. She transports the reader to the places she describes so vividly, that I can imagine myself on a Greek hillside, or a Lebanese valley, smelling the flowers, feeling the heat.
She is also versatile, with books set in different eras and today. The backgrounds are always so convincing. A friend from my reading group who read one of her novels said to me, 'It's so good to read a real book.'
Marina Oliver, former Chairman of the Romantic Novelists' Association, is writer, editor, tutor and reviewer. She has written 'A Cut Above the Rest' and many other novels.
Jenny Haddon writes
There are some authors whose words walk with you throughout your life, encapsulating a moment, a feeling. 'Ah yes, I recognize that,' you say, for a moment completely aware. From Nine Coaches Waiting:
The air was very still. Below me, in the valley-depths where the river ran, I could see, quite distinctly now, the pale drift of mist. The owl cried again once, very sadly, form the wood. There was a strong wet smell of earth and growing things; the smell of spring . . . not softness, not balm-and-blossoms, but something harsh and sharp that pierced the senses as the thrust of new life broke the ground. The cruellest month, breeding Lilacs out of a dead land . . . yes that was it. That was it. Not for the first time I was sharply grateful to Daddy for making poetry a habit with me. The best words in the best order . . . one always got the same shock of recognition and delight when someone's words swam up to meet a thought or name a picture. Daddy had been right. Poetry was awfully good material to think with.
So is Mary Stewart.
Jenny Haddon has written forty something books, mainly under the pen name Sophie Weston, most recently 'To Marry a Prince' by Sophie Page. She [is] was then Chairman of the Romantic Novelists' Association.
What a writer we have lost.
Thank you to lovely writer Christina Hollis for inviting me to join the My Writing Process Blog hop. It comes at an excellent time for me, as I am just considering how to edit the first draft of the longest novel I have every written. (About 5 Mills & Boons in wordage.) So it has concentrated the mind wonderfully.
Currently I'm writing a story set in 1938 when nobody knew there was going to be a war, though lots of people suspected it and tried to work out what they would do if it came. There is a love story – a big one, with problems of integrity, class and sexual morality all mixed in – but the theme, I suppose, is conflict of loyalties. In the end everyone has to work out his or her own solution. We are all answerable to our own consciences, when the lights are out.
My writing process is best described as close your eyes and jump. That's what happened when I started this book. As a result, I went in a number of wrong directions. When I was writing 55,000 word category romance, with one story, two major characters and a guaranteed happy ending, this was not an issue. Now, with a multi-character world and at least four story lines, I have to keep my eye on the landing zone. Basically I think it is going to work like this:
• Write  - tick
• Read  - tick
• Edit
• Write the missing stuff
• Tiffle – more politely known as polishing.
Edit
Done in pen or pencil plus highlighter pens on printed ms, with accompanying notes in a bound notebook. Loose sheets get lost. I have proved this.
1 NOTE incidents/reflections/dialogue that I need to insert to make sense of later developments. Note both where insertion is needed and where it is picked up later. NB Use reference points that Word Search will find. I am now about to kick hell out of Draft 1's pagination.
2 UNDERLINE, sideline, highlight stuff I need to take out because it doesn't make sense in this story.
3 CIRCLE stuff where I go on too long, repeat myself
4 QUESTION MARK anything that strikes me as odd, either because of consistency, plot, character or historical fact.
5 BRACKET anything which could be better expressed. Remember less is more.
6 THEN CUT 2) and 3). This is very satisfying! Keep outtakes for future use. Also, some editor further down the line may want them back in.
7 CONSIDER QUESTION MARKS I find this takes me back into the creative process.
8 SAVE ms as Draft 2
Write
I now know the new material that needs to go into my story (1 above), plus the issues that I need to resolve (7) and any Notes To Self that I make as I go along, especially as I approach the end. They are a focussing mechanism, not a shopping list, Essentially I am now back in the writing zone again. From now on I need to fly, not plod.
The main difficulty here, I've found, is seamless joining. What works best for me is to find out where the new piece has to go in and then go back and cut the preceding paragraph (or more). This gives me room to get into the writing voice I had when I first wrote that chapter. . If I read the preceding paragraph aloud and then keep speaking as I write on, it starts to feel like the spontaneous flow it should do, and not just a patch and push job.
The difference between the two
Editing is like a builder tidying up his brickwork, chopping off excess putty, filling the odd small hole. Re-writing is like removing a damaged brick and replacing it – you have to make room for it, then smoothe the joins so they don't show.
Tiffle
This is where I deal with 5). It's the beauty treatment – clarify, tighten, exfoliate, buff.
Word of warning here: this can go too far. From my past:
ED     You said the book was nearly finished. Why isn't it on my desk?
ME     I'm just giving it a last tidy ….
ED     (howls) Stop tiffling.
Tiffling is where you can go through your book and replace one word or phrase with another because you like it better. This may be good if you a) know why and it's a good reason and b) you're consistent. If you replace 'silk' with 'satin' and then next day change it back, you're in a bad way.
Conclusion
That's the theory anyway. But it's a BIG book and I have miles to go before I sleep. So I'd be very grateful for suggestions.
Recent contributors to My Writing Process Blog Hop
Christina Hollis    Bee-keeper and best selling author of historical fiction and M&B Modern Romance/Harlequin Presents christinahollis.blogspot.co.uk  
Jean Bull has loved books all her life.  She has worked in everything from teaching to the hotel industry and lived all over the UK, which has inspired her writing. jeanbullswritingblog.blogspot.co.uk/ 
Margaret Mayo author of scores of successful category romances for Harlequin Mills & Boon margaret-mayo.com/blog/
To come:
Cara Cooper writes short stories for women's magazines, and novellas for People's Friend, My Weekly and Ulverscroft. caracoopers.blogspot.co.uk
Back in 2007 or so, the Romantic Novelists' Association started to plan the 50th anniversary celebrations. In 2010 we wanted a celebratory book of short stories by current members, a memoir drawn from the archives and a cracking conference in historic Greenwich.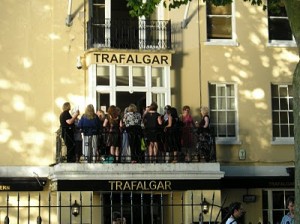 BUT – we also wanted copies of every book that had ever won Romantic Novel of the Year. And we were missing a lot. Over time, I rounded up most, but one remained outstanding: Cat on a Broomstick by Joanne Marshall. It was joint winner with two others, Thea by Margaret Maddocks and Broken Tapestry by Rona Randall, in 1970 .
Eventually, I chased it down to a condensed version published by Woman's Weekly library, available from Australia. When it arrived I found it was a true period piece, a sort of Commonwealth edition – 'Australia 20c. New Zealand 20c. South Africa 20c. Canada 35c. Rhodesia 20c. Nigeria K15. Malaysia 60c. Malta 7c.5.' It was also tiny – 18cms X 11 cms and about 0.4 cms thick.

But the book itself had disappeared totally. I suppose it wasn't surprising. I doubt if it had had much of a print run. The publisher, Herbert Jenkins, had already announced that it was discontinuing its romance line by the time the award was announced. Boots lending library had gone and public libraries were buying fewer and fewer commercial romances.  When Diane Pearson and I finally went to print in 2010 with Fabulous at Fifty, the RNA's memoir, we had to confess that we had drawn a blank on finding it. I entered the title on my wish list at www.bookfinder.com and forgot about it.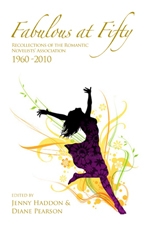 Then, suddenly, this month, a notice turned up in my In Box.  A second hand bookshop had a copy available. Did I want it? Gimme!
The copy had, not surprisingly, come from public library stock. So very many thanks to Staffordshire Country Library for looking after it so well and then releasing it for resale. The books advertised on the back of the beautifully conserved jacket bounced me back in time to a simpler, less suspicious age. For instance, top model Jill in Eve Armstrong's Turn Left from Mermaid Street is 'too innocent to recognise evil when she encounters it.' One hears 'eville'  like David Jacobs's fruity tones pronouncing 'The World in Perille' in the fabulous reruns of Journey Into Space on Radio 4 Extra.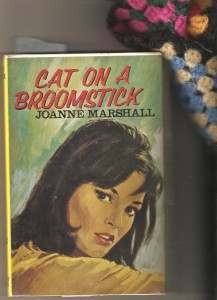 In Cat on a Broomstick, the heroine, Kate, is a television producer whose work has gone stale because, as we find out on page 3, her colleague fiancé has moved on to another woman. An understanding boss sends her off round the country in search of  'another serial, something with history, a flavour of the past. Bring some old barbarian back to life.'  Thus adjured, Kate – who still lives with Mother and Father – packs her typewriter and Shakespeare into her white mini and sets off for a Scottish island which seems to call to her from the page of an atlas.  And in 6 pages, we're on the road, with three good outline characters:  witchy Kate; chilly, conventional fiancé Neville; tweedy eccentric boss about whom we are given more than a hint that he's attracted to our unaware narrator heroine.
This is definitely school of Mary Stewart – a great feeling for landscape, a touch of Gaelic otherworldliness, middle class good manners, a sensible, well-educated heroine with a serious job and a hero who is comprehensively In Charge.  Well, he's going to be Laird one day.  The first person narrative is heavily inter cut with vivid contemporaneous dialogue. A woman who helps you out is 'a brick'. An irritating young man is 'a clot'.The plot races along to end its 60,00 words or so with as many pairings as a Shakespeare comedy.
Anne Rundle was an RNA stalwart for  most of her writing life. She seems to have come up through the RNA's New Writing Scheme and won the Netta Muskett award, as it was then called, with her first full length novel. She had several pen names:  Anne Rundle, Joanne Marshall, Marianne Lamont, Alexandra Manners all have their own entries on Goodreads. As Joanne, she won Romantic Novel of the Year again, on her own this time, in 1971 with Flower of Silence published by Harlequin Mills & Boon. This still remains the only time that a book produced by the iconic romance publisher has won the award. She wrote historical as well as contemporary and gets an entry in the Gothic Novels of the Twentieth Century: An Annotated Bibliography by Elsa J Radcliffe.  Like me, Ms Radcliffe was impressed by her 'simple and direct style' and noted 'some nice observations regarding human relationships' which she contrasts with melodramatic characters and plot in the Victorian ghost-and-gentry-thriller-romance Candles in the Wood by Alexandra Manners.
Just a curiosity, you may. Nobody wants to read that stuff these days. And if they did, they wouldn't be able to find it. Well, try the links on Goodreads, or put up a wish list on Bookfinder and see.
I got lucky. It's been a blast. And the RNA's 50th Anniversary Project is now complete. Who would have thought it?
It is April. I like April.
Chilly old T S Eliot called it the cruellest month, 'breeding lilacs out of the dead land'. Cheerier poets thought otherwise. Chaucer welcomed the month's 'shoures soote'. And my dear Robert Browning, enjoying married life with his personal Andromeda amid Florentine palaces, politics and dramatic past, still gave himself up to purest homesickness when April stirred its stumps.
Oh, to be in England now that April's there
And whoever wakes in England sees, some morning, unaware,
That the lowest boughs and the brushwood sheaf
Round the elm-tree bole are in tiny leaf,
While the chaffinch sings on the orchard bough        
In England—now!
Me? April always reminds me that in one of my very best fantasy lives I am a gardener.
It leaks through into my real life a bit. I plant seeds every year. Indeed, I acquire them from parks and gardens, nurture them in dark places and then nurse them and mutter over them and generally comport myself like a real gardener. But, of course, with only pots to transplant them into, my success rate is not high.  But just sometimes I receive a gift from the universe.
At the end of last year, I threw into pots, very late, a few bulbs of I knew not what. And April has given me
I don't deserve it.  But today I am a Fortunate and Happy Person.
Let's hear it for April!
It never rains but it pours. For months I don't think about Social Media. Then everyone at the Women's Fiction Festival in Matera was talking about social media as the key to discovering books you want to read. On Saturday I went to Oxford to hear sound (near inspirational, indeed) advice from mega book blogger Barbara Vey. And then today Nicola Morgan posts a survey on people's blog-reading habits. And I start to think . . .
I heep six honest serving-men
(They taught me all I knew);
Their names are What and Why and When
And How and Where and Who.
What:  blogs I long favour, blogs I'm introduced to by friends and colleagues; blogs I find by serendiptious links.
Why: to be intrigued, to laugh, to learn, to relax, to find information I want,  to catch up with people who interest me, displacement activity (currently much reduced, see below). Sometimes am rewarded by being moved.
When: earlyish morning, sometimes late evening, Since  I started working away from my desk (Other People's Building Works, ask no further) I'm  online less than an hour a day.
How: specific search or wandering. Not signed up for any, nor visit any blog regularly. Will go to some, like Word Wenches, when I want a break that will make me think, make me laugh and last as long as my coffee. Most blogs I read are less of a time investment, though.
Where: at my desktop. Don't like phone surfing, it makes me miss train stops. No Wifi access where I work.
Who: Ah. For play: quite a lot of authors because they write nicely but not if they're boring on about writing problems. When I'm in blogreading mode I want to get away from that nagging anxiety. I like the way some authors write about their work, life and ideas like Liz Fielding  Mark Chisnell.  Or blogs I've fallen across and enjoyed, like contemporary trumpeter and urban farmer Brendan Ball who led me to the classic video on the truth about Working with Singers by one of  my favourite groups, I Fagiolini; or  Pepys Diary  for visiting another world, where the anxieties were quite, quite different.
For work:  Source blogs like Best of World War 2  that touch on research for my Work in Progress; they're really indices more than anything else ; Author, publisher, editor blogs that are practical and upbeat.
Book review blogs are work AND play. Sometimes I'm hoping to learn stuff I can use in my own career but mostly I want to  make discoveries of new authors I'll enjoy. Very keen on Mrs Peabody Investigates for the latter. But then, I don't write crime. Yet.
BUT – I'm not absolutely sure that I would read my blog if I didn't write it.
AAAARGH!
Advice, anyone?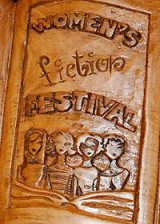 Last week I was in Matera, Italy (a UNESCO World Heritage Site of which more in another post) at the 10th International Conference on Women's Fiction. It was amazing.
The Conference, which is part of a Festival celebrating women's fiction, is the brainchild of  translator/award-winning author Elizabeth Jennings, who lives in Matera, and editor/publisher/agent Maria Paola Romeo  from Milan. And oh boy, was it international. There were authors from the USA, Italy, the UK, Australia, South Africa. There was simultaneous translation between Italian and English. There were writers, agents and publishers from the USA, Italy, the UK, France and Germany.
Most of the Conference was conducted in the form of panels, so we got a range of views and experience. It all felt very spontaneous and, as a result, startlingly honest. It must have been a real pain for the translators, though; they worked their socks off and with minimal prepared content. I take my hat off to them, especially as they donated their services free. That's dedication to books!
Two issues emerged and stayed at the forefront for the whole conference: the hybrid author and 'discoverability'. Hotly followed by the implication that authors now have to be serious business people. No living in a cottage, like Elizabeth Goudge, God bless her, and letting Other People sort out contracts, money and the practicalities of life.  Good for the backbone of course, but more or less daunting for the author, depending on your habits of mind.
The Pillars of Wisdom or at least Commercial Fiction
Elizabeth Jennings, chairing the first panel, said that three years ago there were three pillars of the publishing world: Writer-Agent-Publisher. Stephane Marsan, founder of French publisher Bragelonne, later added a fourth: Bookseller. It was only very late in the conference that someone else (sorry, forget who) mentioned, in passing, the Reader. The European voices tended to agree that readers were diminishing in number, though I'm not sure whether that was just of print books. Everyone pointed out that, although e-readers were growing increasingly popular, once a book or short story was available digitally it could be read on other devices, such as laptops, tablets and even smartphones. The next generation of readers may find these a better fit with their daily lives, I suppose.
The hybrid author   
One man in his time plays many parts … In the case of writers, in the new digital age you may find that you want to self-publish your first venture(s), but also contract with a small press for something that has a definite audience but you can't quantify it; digital first(small or large publisher) for an experiment;  and, maybe, a big mainstream publisher for your mega-reach books. And you may want them all at the same time. Publishing, as everyone said, is changing. Fast.
Digital publishing  seems now to be driving the new commercial fiction market in the USA. The consensus was that Europe is two to three years behind but going in the same direction.
Discoverability
The upsurge of digital publishing has inevitably caused a traffic jam, to put it at its mildest. With all those books out there, how does the Reader find the book he/she actually wants to read? He/she can still browse, in real bookshops and the on-line stores, both of whom will deliver recommendations. The Amazon rankings increase an author's visibility — but you have to take care to select carefully the categories in which you place your novel and also choose your time window carefully (there you go, author-businessperson again). The self-publisher will probably  only get a visible place in the rankings for a short time.
However, the latter is true for all publishers, big, small and self. Crowding out has hit the book world big time. You may get a contract with a big publisher but they haven't cracked this problem, any more than has Euphemia Gutbucket, publishing Forty Years in the Rain Forest, my life as rubber planter's wife. 
Community
And this is where I pay tribute to the big thing I took away from Matera – the willingness of everyone there to help each other out. From Elizabeth herself, devoting what must be massive writing time to putting together this programme, to the agents, publishers, translators and other authors, I was humbled by the generosity of everyone, all cheerfully sharing the problems they had identified and some of the solutions they were trying.  In particular I am grateful to fellow participants  David Gaughran, who convinced me that it was possible to let people know about your books without having a personality transplant and Shannon Mckenna, who hit the New York Times bestseller list on the Friday of the Conference. That achievement reminded everyone that there are Readers out there and sometimes they just love your book.  Phew!