I don't normally make New Year Resolutions but this one has been growing in me for a while.  Unexpected pleasures are a gift from the universe.  I should take the time to share them.  So this is my first.
At a point in 2012 when life was full and sad, my good friend Anne Gracie sent me the present of a memoir by Eloisa James, who I knew only as a US historical romance author. It was about a year in which James lived in Paris with her family.
Now, I have to admit I'm not a fan of Paris. My pen friend lived in a suburb (Plessis Robinson) and pretty much every trip we made into the city was attended by one of those humiliations which the Parisians are so good at dealing out. I admit that the agony can still sneak up on me, sandbag in hand, when I'm on the underground sometimes and my mind is drifting.
I don't hate France, you understand. I enjoy Bordeaux, love Beaune, was enchanted by Cannes when I went there with Anne McAllister researching one of her books. But Paris?
There used to be a book of classic photographs to which some wit had appended appropriate captions. One of the pictures was a gargoyle from Notre Dame, a bitter, bored, resentful devil of a gargoyle, with its chin in its despairing hands and its tongue out. The caption?  I hate Paris.  I was with that gargoyle every step of the way.
Well, Eloisa James has changed all that.
She went to Paris with open eyes and an open heart and she has found treasure. She writes delectably (and with truly Christian lack of envy) about the artisan chocolate delights, the elegance of the women, odd corners she finds and the food, some of which is still melting away in my imagination, some of which is stomach-turning. She encounters a superior waiter of the species I remember with a shudder and she and her husband, responsible parents that they are, retreat from the restaurant to scream at each other out of sight of their offspring.
The book started life as a blog and most of the entries are effectively snippets, intensely observed, often witty, sometimes heartfelt, encapsulating a moment as perfectly as a sonnet.  This is a book you can genuinely read in an odd moment, when you need respite or you're waiting for bread to rise, and take something of substance and delight from it.
She takes longer to ponder bigger things. The neurosis that I suppose all writers share about losing words leads her to decide to start memorising poetry again, which I shall emulate. Her first is Auden's Lonely Betters,which hitherto I would have said I mildly disliked, along with what I know of Auden, it has to be admitted.  But reading it after James's thoughts on her own language and her father, the poet Robert Bly, gave it a resonance which will have me return to the poem, I know.
A surprising, thoughtful and charming book. I loved it.
Still not sure about Paris, though.
Big muttering started on the Net after the Harrogate Crime Writing Festival, six weeks or so ago. Stephen Leather, best selling thriller writer, sat on a panel discussing e-books and said, as reported by The Daily Telegraph, 'that he uses pseudonymous accounts in online discussion forums to create a "buzz" about his work'. (They're called sock puppets, apparently.) It didn't go down well with his audience. Some of them dug around the Internet for evidence and found that the practice was nastier than simply lauding his own work — and, it now emerges,  more widespread than you would expect, too.
It has unsettled me horribly.  These are fellow authors, you understand. This is my team. I didn't think we did things like that.
I'm not well placed to make a judgement as to whether this is just the brutalist school of marketing or sufficiently misleading to be illegal – and, if the latter, who would be guilty of the criminal offence: the disguised author for perpetrating?  Amazon for publishing?  Could there be a class action by deceived readers? As someone who takes no notice of stars and hardly ever reads Amazon reviews (even of my own books, though that's probably cowardice) I can't really claim to have been materially misled pre-purchase.
So why does it nag away at me?  After a great deal of restless arguing with myself, I think there are four reasons:
1    Partly it's the recoil from turning over a sun-warmed stone and finding maggots underneath. Now, some of my best friends are authors. I know that even the nicest of us have a touch of darkness. We can be savage when we're writing and it isn't going well.  And completely indifferent to the world, the flesh and the devil — not to mention our nearest and dearest — when the writing is on a roll.  But setting up a bunch of masks and playing different parts, sometimes even talking to another of our own masks – that's just creepy.  Especially when you think of the sheer time it must take.
2    Sympathetic embarrassment. OK, I have a low embarrassment threshold, but for me this is just anguish. I feel for these guys standing naked and shivering in the spotlight of the Internet and I wish with all my heart that they hadn't done it and they weren't.
3   Much more important, though, trashing other writers makes me wince and want to run away and hide. But it also bewilders me. I mean why?  Surely not out of rivalry? As Katie Fforde always says, people read more than one book. Because they read hers doesn't mean they aren't going to read mine too, if they like my sort of thing.  Out of spite? That's more than creepy, that's sinister, up there with stalking and writing poison pen letters. You imagine strange loners without much in the way of a social or inner life getting their jollies out of it, not people with imagination. Especially not successful people with imagination.
4    Alien alert. Short of Miss Piggy, which author can honestly stand up and say their book is the bees' knees, knocks everyone else into a cocked hat and is an absolute Must Read for the World? I can tell you which of my books I'm fondest of and possibly why – but I know a  load of faults in each and every one and probably there are a whole raft more than I haven't thought of yet. Getting the damned thing published has never turned off my inner editor, nor should it. These writers have Gone To The Bad. It has to be all the fault of the Internet, temptingly anonymous with the reach of an Asian Flu Virus. Hasn't it?
But then I remembered The Guru. Specifically, The Clicking of Cuthbert. PGW had seen this madness and set it down in its finest flower. I have set out the relevant bits below. The Vainglorious Author (a rising modern novelist from Russia) is attending a literary soiree rather than a full blown Harrogate festival but otherwise the parallel holds, I feel.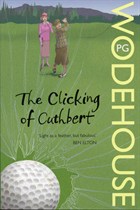 Vladimir Brusiloff's mouth opened, as he prepared to speak. He was not a man who prattled readily, especially in a foreign tongue. He gave the impression that each word was excavated from his interior by some up-to-date process of mining. He glared bleakly at Mr. Devine, and allowed three words to drop out of him.
"Sovietski no good!"
He paused for a moment, set the machinery working again, and delivered five more at the pithead.
"I spit me of Sovietski!"
Raymond Parsloe Devine was plainly shaken, but he made an adroit attempt to recover his lost prestige.
"When I say I have been influenced by Sovietski, I mean, of course, that I was once under his spell. A young writer commits many follies. I have long since passed through that phase. The false glamour of Sovietski has ceased to dazzle me. I now belong whole-heartedly to the school of Nastikoff."
"Nastikoff no good," said Vladimir Brusiloff, coldly. He paused, listening to the machinery.
"Nastikoff worse than Sovietski."
He paused again.
"I spit me of Nastikoff!" he said.
Vladimir Brusiloff proceeded to sum up.
"No novelists any good except me. Sovietski–yah! Nastikoff–bah! I spit me of zem all. No novelists anywhere any good except me. P. G. Wodehouse and Tolstoi not bad. Not good, but not bad. No novelists any good except me."
Well, it cheered me up a bit. But at least Vladimir Brusiloff didn't pretend to be Lamb Chop while he did it.
I have to admit that I was an Olympic skeptic. There are many reasons for this but I put its origins down to childhood trauma. I had a serious sportsman for a father.
Back in the last century he went to Berlin to represent the UK in an international table tennis duel which produced an ode from the then Manchester Guardian to: 'Five stalwart Englishmen, crossing the stormy ocean, To ping and to pong in Britannia's name'.  My mother cut it out and kept it. They broke up shortly afterwards.  It took several years and a World War before he forgave her. And, notwithstanding his being a lifelong Labour voter, I never saw him buy or read The Guardian. Though, of course, that could have been down to the quality of the cricket reporting, which was what forced him into the embrace of the Torygraph, an organ whose leaders regularly reduced him to apoplexy at the breakfast table. He also ran various distances, played cricket, hockey, tennis, squash and God knows what else.  
You will see that ours was a conflicted household. Sport was at the root of most of it.  
As a result, show me a man in sports togs with the gleam of battle in his eye and I take a swift side step and head for the hills until it's all over. Romantic hero? Nah, not a chance.    
Kate Lace has changed all that.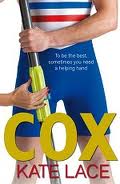 Now, I'll be honest, she's a mate of mine, so I was always going to read COX. And she's a good writer, so I expected to enjoy it. Did I expect to be swept away, horizons widened, world view changed? Well, no.  Yet half way through reading it, there I was, watching the Olympic rowing– punctuated by her excited tweets — live, with my heart in my mouth. And, I'll admit, the occasional tear in the eye too.
This is, quite simply, a lovely book.  We follow a group of young rowers through their local or college clubs, to national trials, culminating in the Olympics themselves. The punishing training regimes, the costs of backsliding, the sheer physical strains of the race itself, even when you're in peak condition, are fantastically vivid. And I never once disengaged, in spite of a lifetime of avoiding this stuff, because Kate Lace  absolutely made me buy into the world of the story and care what happened to her cracking cast of characters.
There are the hunks, of course — dark, brooding guy works his way through college and is innately hostile to rich, careless, manipulative sex god working his way through anything female;  and the gorgeous girls. And also, the quite nice, ordinary girls and the guys who don't make the cut and still have a pretty good time anyway.  They have flaws. They make dreadful misjudgements, about themselves and what they have to do to stay in the game. Earning a living isn't always easy. And nor is keeping a relationship going when you're really focused on your sport. You really feel for them. They also shag a lot and without benefit of whips and chains which, in the current literary climate, is a real pleasure.  You have a huge sense of completion (and a couple of bonus rewards) at the end of the story.
Above all, it's a load of fun. I hooted aloud more times than I can say. And I love the minor themes that run through the book, like the couple who are regularly surprised under tables in flagrante.  Did I say, these guys shag a lot? Well, they're in peak physical condition so it's only to be expected.
What is so clever is that what these rowers achieve and what they mess up can be translated across just about every field of human endeavour. For instance, there is a spine-tingling account of how you can work in absolute harmony with someone you think is pure poison; and a woman who wants something so badly that she won't try for it in case she misses, which made me wince with fellow feeling- as well as wanting to slap her; and the laughter and fellowship which get you through the good stuff and the bad.
So thanks to COX, I braced up and watched a race (or five or six), even though I knew most people were going to lose and it always makes my heart ache for their disappointment.  And by golly, it made me respect our sportsmen and women. I whinge because I labour mightily over a book for months and months and then someone comes along and tells me she finished it before the bathwater got cold. Yet these guys put their whole lives on hold for four years while they train for the Olympics and their chance to show what they can do is over in minutes, even seconds.
This is definitely a book to read by the pool with a large drink or three. Or on a crowded train. Or anywhere, really. The world will hold you and the characters will take you with them and maybe even change you a little. And you'll have a ball.
Back in May I went to a very jolly party, with Cornish pasties, in Waterstone's Kensington High Street to launch Liz Fenwick's debut novel,  The Cornish House. Since then I have read it twice and followed with fascinated admiration her blog about getting on the road to promote her book. Her energy and good humour about this daunting part of an author's life are an object lesson to a lot more of us than debut novelists, believe me.
The novel has made me think.  I gallopped through it on holiday, in between prowling rain-soaked bits of countryside in company with a Birdwatcher.  (Actually that sounds a lot grimmer than it was. The air was like champagne, even when the sun was hidden behind a roof of storm clouds,  and brief bursts of intense sunlight illuminated the landscape like a mediaeval Book of Hours.) It was definitely a book where I wanted to know what happened next —  and some of it I really didn't see coming, which is why I am walking on eggshells here not to reveal any spoilers.
But the first gallop left me unsatisfied. I wanted to read it again. Now I have and it was worth it.
Maddie Hollis is thirty-eight, childless and a new widow with an adolescent  stepdaughter, Hannah, for whom she is responsible. When the novel opens Maddie's husband, John, has been dead for 6 months and she is moving to the Cornish house of the title, which she has inherited unexpectedly from someone she has never heard of.  The house is neglected, Maddie is short of money and needs to start earning again (she is an artist) and her stepdaughter is foul-mouthed and furious. Enough, you would think, to make Maddie hit out in all directions. But, as Liz Fenwick movingly depicts, Maddie feels empty. And she's having nightmares from which her own screams awake her. 'Grief was supposed to lessen with time. That's what they'd told her but, instead of fading, each night she was haunted more than the night before.'
This is a book which sets its own rules. Just at the point at which I was thinking oh no, not another death, this could beat Midsummer Murders at its own game, I realised that the recurring doom in every story Maddie uncovers about people from the past absolutely reflects her own grief. Good things do happen — there is not one hunk but two, both of them interested in Maddie;  locals welcome the incomers and are consistently kind, teasing and inclusive. She responds, and so does Hannah;  but only fitfully. There is even a moment when Maddie has to suppress jealousy over the closeness of her sprightly neighbour and her husband. It rings painfully true. There are seasons to mourning, as there are to the year (and Liz Fenwick is very good on the changing Cornish landscape over the months of this story), and they can't be hurried, even though dealing with a poisonous teen, the pub and picnics still have to go on in another space in Maddie's head.
There is much that is life-enhancing, too: the run-down house, with its mysterious corners, the social life of the village,  its continuity over the centuries, Cornwall itself. Even Maddie's emotional turbulence is vivid evidence of the world turning: grief makes her heroic, problem-solving, opens her mind; it also plays hell with her judgement and turns her intermittently indecisive and obsessed.
Trying to give you a flavour of this book, I came up with somewhere between Daphne du Maurier and Miss Read. There is du Maurier's love of Cornwall and her sense of the chaotic, exhausting power of emotion. But du Maurier darkness is alleviated by Miss Read's gloriously normal gossip, feuds and neighbourly interference for good or ill.
Above all there is kindness, both trivial and profound. Ultimately this is a hopeful book– and also a healing one.
This week I joined the Fulham Women's Institute to talk about romantic fiction over the last 50 years. Predictably, a combination of lively questions and a (slight, very slight) tendency to beady-eyed obsessiveness on my part, bounced me off course into  general appreciative splurge.
So I never told them, as I had meant to, about one of my heroines. I had a great time, but I'm afraid I short-changed them. This is an apology and an attempt to supply the deficiency of my talk.
Lucilla Andews died on October 3rd 2006. The Romantic Novelists' Association had given her a lifetime achievement award barely two months earlier.  She had sold getting on for 3 million books round the world.  Drawing heavily on her own experiences as a nurse at St Thomas's during the War, she became what the Guardian newspaper described as "the brand leader of hospital romance". (Do you detect a hint of the patronising, perhaps?)
She was published in 11 languages. Her career spanned forty years.  For the first ten years of Public Lending Right in the UK she was in the top 50 authors borrowed from Public Libraries. She wrote 35 novels and an autobiography, No Time for Romance, which is an unforgettable account of wartime from the point of view of one of the ordinary people whose lives were utterly transformed by it.
She was left the sole breadwinner by her husband's illness very soon after marriage, when her only child was five months old.  For the rest of her life she earned her living from writing. The books and short stories ensured that her daughter had a stable, loving and stimulating home – and the sort of education that Lucilla had not had herself. Veronica went to Cambridge, read history and became communications adviser to the Labour Party  among others–  a towering presence, according to her obituary in The Guardian. Veronica died in 2002. It must have been dreadful.
But when I saw her in Edinburgh, on the occasion of that Lifetime Award, Lucilla Andrews talked about Veronica's achievements and the fun they had together, not the loss. She made it clear, too, that she, personally, was passionate but never doctrinaire about women's rights. She had a right to be. She had, after all, paid her dues.
Her writing also made not inconsiderable amounts of money for publishers and agents, at various times. This, you would say, was a woman of energy and intelligence, of vision and some moral force. Was she listened to with respect?
She was not.
In 1955 she suggested to her publisher that it would be timely to make a television series based on her imaginary hospital St. Martha's.  A hospital was, she argued, a microcosm of society; it was full of drama as well as "humour, absurdites, incompatible temperaments and love affairs".  Her books were successful. Her writing skills were proven. Above all, her knowledge of the background was unrivalled.  (She did not say this, you understand.  She may have thought it was self evident, as it certainly should have been.) As she later said in her autobiography, she drew on her nursing experience "without falsification". Her former colleagues on the Nursing Times, said that her novels were "faultless in their settings … stoical, spirited, humane."  Doesn't sound trivial, does it?
Television needed drama. The time was surely right.  So what happened, when she suggested her hospital series?
Flat rejection.  Specifically, "Oh no dear, that may do for women's magazines but it won't do for television." Men, you see, watched television. They would not be interested in little stories for women.
And then came . . . Dr Kildare; Emergency Ward Ten; Angels; blah, blah, blah … right up to our own day of Casualty; Grey's Anatomy, Green Wing and dozens of others.
Did anyone ever say to her, "Sorry Lucy, you were right?"
Nope. Even though, according to a Harrap's representative from the old days who made it to the Memorial Service, the office was waiting for her ms to arrive so that they could whisk it off to printing, with minimal editorial, to get it out there and earning. But they never thought she was worth listening to.  It makes me so angry.
And these days she is largely forgotten, which is a waste. Her accounts of wartime, whether fictional or memoir, are electrifying. If you want to know what it was like to be a nurse in St Thomas's during the Blitz, read Frontline 1940. The hero, an American journalist, has been present during the fall of Paris and he expects London to fall too. This is what it was like to expect to be defeated and hope to hang on for just one more day.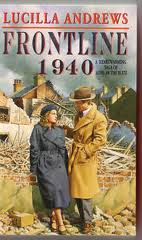 Please read it, Fulham WI and World.  It's worth it.
On Thursday the UK Romantic Novelists' Association presented the RoNA to Jane Lovering for Please Don't Stop the Music, published by British independent publisher Choc-Lit.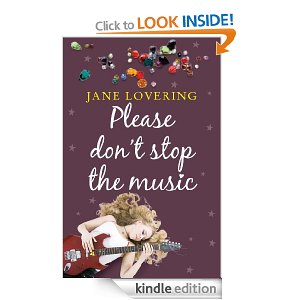 On Friday I read it. It had previously won the romantic comedy section of the awards, so I thought I knew the ball park. I was wrong.
It has the tightly knit cast of friends (and the odd foe) that we have come to expect from romantic comedy, some of which is sometimes called chick lit. It is witty, perceptive, with some very good one-liners, including the opening sentence: 'You know you're in for a bad day when the Devil eats your last HobNob.' And at that point it waves goodbye to Bridget Jones and her mates.
The important thing is that these girls have no safety-net. You look in vain for the aged Ps, who need to be placated or avoided but ultimately may provide a refuge in the shape of childhood bedroom and in-before-midnight. There's no flinching away from the smug marrieds, no partner hunting, not a randy boss or backstabbing colleague in sight, no alcoholic clubbing after work. These people are self-employed and hanging on by their fingernails to a roof over their head. Welcome to Cameron's Britain. They're problem solvers, they help each other out, but it's not an easy life and they don't know everything there is to know about each other.
You feel that, even as your guide and heroine, first person narrator Jemima Hutton, takes you on a brisk, witty, courageous tour of her life. That's her life now.  Because Jemima has secrets and she's not the only one.
The plot, and it is a good one, is rooted in those secrets and I'm not giving them away. I'll just say that the hero is gorgeous — and it takes Jemima a surprising amount of time to notice. I got there the moment she mentioned his jeans.  And he's got a lot of baggage. Jemima herself could give the Duchess of Malfi a run for her money in the tortured backstory department. The local habitation is York, brilliantly evoked. And the happy ending resolves really big issues believably.
Jane Lovering's voice is lively and the book positively swoops along.
I read it in a sitting. Enjoy!
Getting to know my Kindle better, I downloaded No 4 on the Spies and Thrillers chart, The Fulcrum Files by Mark Chisnell.
Set in 1936, it's a story rooted in a period when people were desperate to believe that 1914-18 had seen the war to end all wars, when communism offered an apparently viable alternative way of organising society and the increasingly confident Soviet system was setting up networks to export it. In Britain, manufacturers were almost as reluctant as the government to believe that Germany was re-arming, as Mark Chisnell points out in his PS to this exciting story. It is also a time when pacifism was a vibrant issue and deeply divided friends and families.
Chisnell's hero, Ben Clayton, is a decent upright human being, a bit of an outsider because his education is above his social class, and even more of a loner because, for profound personal reasons, he is a pacifist.  The plot is convincingly riven with class warfare, bully boys and heroism, as our hero tries to investigate an accident with a newly designed mast in which his friend dies. He also tries to look after the widow, be straight with his girl friend (a lovely character) and keep his job. By the time he finds himself on the run in Germany, trying to keep ahead of the Gestapo, I couldn't put it down. And there is some of the best writing about a chase at sea that I have read since The Riddle of the Sands, a book which our hero has read, marked, learned and inwardly digested.  Riveting.
The Riddle of the Sands, published in 1903,  is possibly the first spy story. I read a little John Buchan as a child and Fleming as I got older and could take it or leave the genre, frankly, though on the whole I preferred to leave James Bond. I didn't find The Riddle of the Sands until I was in my twenties and living in Ireland.
Childers was a real child of empire who was converted to the cause of Home Rule and died gallantly for it in front of a firing squad in 1922. (His son was 4th President of Ireland 1973-74, succeeding his father's friend Eamonn de Valera.) Childers  was an enthusiastic sailor and his most famous story tells of a sailing holiday in the Baltic when a young chap from the Foreign Office (the proverbial Carruthers) is invited on a sailing holiday, with perhaps a little duck shooting, by an acquaintance, Arthur Davies. Davies, in fact, suspects that there is a secret German fleet being assembled off  the Frisian islands, preparing to invade Britain and is out to prove his theory. Carruthers, the novel's narrator is at first disconcerted, then flings himself into the venture and they end up sailing for their lives through the fog to warn England. Cracking stuff. Still on my bookshelf.
In an article in The Spectator in 1955 Ian Fleming criticised The Riddle of the Sands for a lack of believable villains. (So Drax, Goldfinger and  Dr No are believable, I hear you cry). He also didn't think it was thrilling enough! But then I'm not sure that Fleming understood suspense, as opposed to sadism, unlike Childers and Chisnell.  But then, I've only managed to finish two.
James Bond is now identified by the movies rather than the books and, particularly,by the actor. It is said that the various  incarnations reflected their times: currently Bond is an impassive hard man, played by Daniel Craig. Brosnan was sophisticated and witty; Timothy Dalton, sophisticated with a hint of a secret sorrow; Roger Moore a sophisticated comedian; George Lazenby not quite sophisticated — and then, first of all, there was Sean Connery. Fleming had envisaged Bond looking like himself (start with the sneer and work backwards, I guess) but he has a character say that Bond reminds her of Hoagy Carmichael. So this is what he wanted:
What he got was Sean Connery.
Serendiptiously, I came across a photograph of Connery as Pentheus in The Bacchae the Oxford Playhouse, in 1959, his pre-Bond days. (Michael David was Dionysos.) The photograph was taken by surrealist painter Oscar Mellor, who day-jobbed as a photographer with, I think you will agree, spectacular results.  (A letter entitled You Muddy Fools appeared in the London Review of Books in 2002 on this self-effacing eccentric.)
Pentheus, of course, was torn to pieces by maddened women.  For spying.
I was really grateful to Emma Lee Potter for the write-up on her blog of the panel of best selling novelists at last weekend's Chipping Campden Literary Festival.But Fiona Walker's advice made me wince: "Finish it. There are so many half-finished novels languishing in drawers.".
Guilty, Guilty, So Guilty.
I have been asking myself what happened to relegate those poor stories to the drawer.  Or in my case, the box file at the top of the wardrobe.  Did I run out of steam?  Drive myself down a blind alley and fail to find a way out?  Realise they were crap and run away?  Or did some bad fairy at my Christening give me what my friend Mary Jo calls the Tiffle Virus, so that I can never actually bring myself to stop tweaking, finish and say goodbye?
Well, the answer is, all of the above.  But quite often the latter.  Although sometimes I think she was not so much a bad fairy as an older sisterly sort of witch lurking somewhere in my subconscious who, after lobbing in  eye of newt and other succulents, says, "Still a bit watery;  needs something else; leave it and see if it comes to you."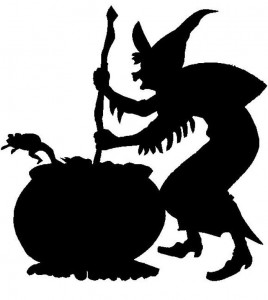 My only excuse is that, often, the witch is not wrong. When I push my way into the Wardrobe, I can see that she was absolutely right about my Knight of Ghosts and Shadows, a woman-in-jeopardy story with a hole in the plot you could drive a London bus through.
Or Someone Else's Business which was about three books in one.  Worse, the heroine fancied the wrong man and wouldn't stop, no matter what I did.  "'You'll have to kill him," said my friend Annie,  best seller, dearest friend, severest critic and all round bootfaced sadist when it comes to her own characters.  But by then I was in love with him too and I couldn't bring myself to do it.
BUT
…  for at least some of these Wardrobe-bound stories, their time will come. If you're a writer, never forget that.
A case in point – sometimes in the 90s I wrote a book for Harlequin Mills & Boon with a waif heroine. They turned it down, saying that waifs were out of favour. Presumably they were too kind to say that the story was only half cooked. Heroine fine. The hero had the charisma of a cornflake packet.
That's what I discovered when, scrolling forward ten years, HMB were looking for a ms urgently to fill a slot.  Only by then I had a new hero, a real hero, waiting in my imagination. Helped by some judicious prodding from fab editor Kate Paice, I wrote 25,000 new words in a week. And it worked. The Cinderella Factor is now one of my favourites.
So the moral I deduce is: Finish the Damn Book, fine. But don't tear your hair out if it needs to rest a bit first. The same is true of the finest burgundy.
Just go Finish Another Damn Book in the meantime.
This week I went to the National Theatre's production of She Stoops to Conquer. It broke my heart.
What I saw was a crass, shallow, crude peepshow of a play.  Brutish Tony Lumpkin tells two wimpy London fops that his stepfather's old fashioned house is an inn. So they turn up, give orders, treat their welcoming host as an over-familiar innkeeper and decide that his daughter is a barmaid.
This is a School of Big Brother production. The audience is invited to smack its lips lasciviously at the ensuing social and sexual fallout. Audience? Gloating voyeurs would be nearer the mark. I wanted to run away.
This is where I have to point out that the critics were all pretty keen — "a delight" The Independent ; "a mixture of wit and warmth", The Guardian;  " fresh, spirited and blissfully funny" The Telegraph.  And, to be fair, it is beautifully set and dressed.
Susan Kikoler is my guru in all things London theatrical.  She goes to everything worth seeing. I consulted her. She hadn't seen it but was not surprised at my report. She suspected as much from the tone of the reviews — apparently words like "boisterous" and '"spirited" are a give away for end-of-the-pier humour.  She was not as upset as I was, though.  "It's a difficult play. I never liked it,' she confessed.
Ah. I went back to the text.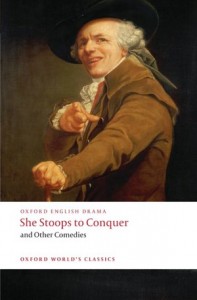 Susan is right, of course. Tony Lumpkin's trick could be cruel. Restoration Comedy was full of heartless toffs tricking the unwary into betraying their inadequacies. Even Sheridan has his cold-eyed moments (Sir Peter Teazle's realisation that his country wife has betrayed him can be heartbreaking, in the hands of the right actor.) But Goldsmith is different. His characters can be pretentious and silly but they are seldom completely self-deluded — even poor old Mrs Hardcastle knows, really, that she is not forty any more. Above all, they are generous. Even naughty Tony. At least I think so.
Now, I have always felt at home in the later Georgian period, tough though it could be (um, embarrasssing photo of self here)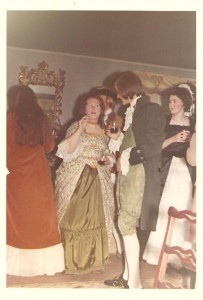 and I have always loved these people.
I love the battle between countryfied ways and town polish. I love the real affection that Squire Hardcastle has for both his wife (struggling with advancing age and a cheerfully rebellious son) and his clever daughter, in spite of being a little too overtly the master in his own house.  And, anyway, he isn't; his servants talk back and he lets them; Mrs Hardcastle runs her own show and he lets her;  he even compromises with Kate on her clothes – she can have Town  furbelows for morning calls as long as she wears his preferred simple country dress for dinner time. I love Tony Lumpkin, a sort of Tom Jones in the making, a wild boy with his rural mates who knows he's too immature to marry his cousin but is fair and generous to her in the matter of her inheritance. Above all, I love poor awkward, stammering, boastful, unwary Charles Marlow who, under the gentle encouragement of a well spoken inn maid, manages to find equilibrium between what he feels and what he can bring himself to declare to the world.
And what did I find at the National Theatre? For socially insecure young men, one of  whom is a bit of a swot, we had cowardly fops ("beyond camp", said my Companion gloomily but with justification, "pure Up Pompei"). Instead of the quicksilver mischief of  Tony Lumpkin, we had the threatening leader of a gang of rural thugs. For that sound judge of true worth, lively Kate Hardcastle, we had a wind-up merchant channelling her inner pole dancer.
Nasty and not in the spirit of the play, which was first performed in 1773.  Elizabeth Farren, the 18 year-old Kate who took the Town by storm in 1777, had a twenty year career playing Portia and Hermione as well as Lady Teazle and similar roles;  then married the Earl of Derby. Her demurely pretty portrait was painted by Thomas Lawrence.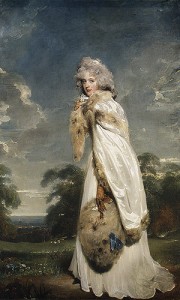 What hurts me is that this play is all the more poignant because Goldsmith himself was a mess. Young Marlow's self knowledge and honest declaration at the end of She Stoops  is hard won and it was Goldsmith's battle, only with a happier ending. For Goldsmith was a gambler, a drunkard, a poor scholar (none of which applies to Young Marlow), a socially inept pock-marked pauper who never settled to a proper career. He busked his way round Europe, earning his bread by playing his flute, and, when he got back to England, was endlessly in debt, in spite of considerable success in his writing. He was vain, jealous and, in person, unpersuasive to say the least– Boswell records Goldsmith's ill-judged exchanges with other members of The Club, in which he was constantly tied up in knots by the divine clarity of Johnson.  Johnson, friendship at war with honesty, said of Goldsmith, "No man, was more foolish when he had not a pen in his hand, or more wise when he had."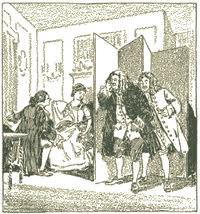 And that's what I was missing in this production. The wisdom.
After their first disastrous exchange of tangled high sentiments (pure biography, I suspect, poor old Goldsmith!), Marlow gets away and Kate Hardcastle muses, "He has good sense, but then so buried in his fears, that it fatigues one more than ignorance. If I could teach him a little confidence ….."   You think, that's a sensible, affectionate girl who sees into the heart of things. They'll do all right.
At the end, still thinking her a barmaid, Charles Marlow eventually realises, "What at first seemed rustic plainness, now appears refined simplicity. What seemed forward assurance, now strikes me as the result of courageous innocence and conscious virtue."  You want to throw your hat in the air and cry huzzah. He's stopped caring what people think about him. He knows what he thinks about her. And what he feels. And he's right. It is a triumph
So yes, I am in love again.  Reading Goldsmith again. Going back to other eighteenth century writers. I suppose if it weren't for last Thursday, I would not be.  So, for that at least, dear National Theatre: thanks guys! I think.
I have a confession to make. I can't take most currently popular crime novels. It's a genre I've always loved and it makes me sad.
Crime novels, says PD James, are about the restoration of the social order. They are about justice. Now I have a passion for justice and an appetite for murder in a story.  I relish following a character over the tipping point where the functioning social being goes out into the dark alone to kill. But, but, but …. I can't be doing with voluptuous nastiness, even when it's very well written. Maybe especially when it's very well written.
Take an example. I read the Millenium Trilogy in one bound, as it were. Was fascinated by the characters and the ideas but the violence was such that I really had to brace myself to read the second in the series. I'm glad I carried on through book 2 and then finished The Girl Who Kicked the Hornet's Nest. But I'm pretty sure I couldn't take it again. Nastiness like that gets into my dreams.
Maybe I've overdosed. And not just on Stig Larsson.
Which is why I have always puzzled over my willingness to pick up another Jack Reacher novel. Some (though not all) of Lee Child's murderers are sadists. There is a high body count. Violence is not shirked. Reacher, of course, is a hero– a career soldier who retires and declutters his life of everything, house, books, relationships, laundry. (Possibly a touch of wish fulfilment for me there, I thought.) He solves problems beautifully. Restores justice. Moves on. A hero, certainly. But my hero? Why?
And then I read Killing Floor and realised wherein lies his attraction. He is my soul mate. He believes in apostrophes. Hell, he deduces clues from apostrophes.
Reacher and a fellow investigator are looking for what Hitchcock called the McGuffin. They have found a list but so far have drawn a blank. Then Reacher has an idea.
'You recall the second to last item?' I asked him.
'Stollers' garage,' he said.
'Right, ' I said. 'But think about the punctuation. If the apostrophe was before the final letter, it would mean the garage belonging to one person called Stoller. The singular possessive they call it in school, right?'
'But?' he said.
'It wasn't written like that,' I said. 'The apostrophe came after the final letter. It meant the garage belonging to the Stollers.  The plural possessive. The garage belonging to two people called Stoller. And there weren't two people called Stoller living at the house out by the golf course.' 
Soul mates, I told you.