Archive for the 'Romantic Novelists Association' Category
Thank you to lovely writer Christina Hollis for inviting me to join the My Writing Process Blog hop. It comes at an excellent time for me, as I am just considering how to edit the first draft of the longest novel I have every written. (About 5 Mills & Boons in wordage.) So it has concentrated the mind wonderfully.
Currently I'm writing a story set in 1938 when nobody knew there was going to be a war, though lots of people suspected it and tried to work out what they would do if it came. There is a love story – a big one, with problems of integrity, class and sexual morality all mixed in – but the theme, I suppose, is conflict of loyalties. In the end everyone has to work out his or her own solution. We are all answerable to our own consciences, when the lights are out.
My writing process is best described as close your eyes and jump. That's what happened when I started this book. As a result, I went in a number of wrong directions. When I was writing 55,000 word category romance, with one story, two major characters and a guaranteed happy ending, this was not an issue. Now, with a multi-character world and at least four story lines, I have to keep my eye on the landing zone. Basically I think it is going to work like this:
• Write  – tick
• Read  – tick
• Edit
• Write the missing stuff
• Tiffle – more politely known as polishing.
Edit
Done in pen or pencil plus highlighter pens on printed ms, with accompanying notes in a bound notebook. Loose sheets get lost. I have proved this.
1 NOTE incidents/reflections/dialogue that I need to insert to make sense of later developments. Note both where insertion is needed and where it is picked up later. NB Use reference points that Word Search will find. I am now about to kick hell out of Draft 1's pagination.
2 UNDERLINE, sideline, highlight stuff I need to take out because it doesn't make sense in this story.
3 CIRCLE stuff where I go on too long, repeat myself
4 QUESTION MARK anything that strikes me as odd, either because of consistency, plot, character or historical fact.
5 BRACKET anything which could be better expressed. Remember less is more.
6 THEN CUT 2) and 3). This is very satisfying! Keep outtakes for future use. Also, some editor further down the line may want them back in.
7 CONSIDER QUESTION MARKS I find this takes me back into the creative process.
8 SAVE ms as Draft 2
Write
I now know the new material that needs to go into my story (1 above), plus the issues that I need to resolve (7) and any Notes To Self that I make as I go along, especially as I approach the end. They are a focussing mechanism, not a shopping list, Essentially I am now back in the writing zone again. From now on I need to fly, not plod.
The main difficulty here, I've found, is seamless joining. What works best for me is to find out where the new piece has to go in and then go back and cut the preceding paragraph (or more). This gives me room to get into the writing voice I had when I first wrote that chapter. . If I read the preceding paragraph aloud and then keep speaking as I write on, it starts to feel like the spontaneous flow it should do, and not just a patch and push job.
The difference between the two
Editing is like a builder tidying up his brickwork, chopping off excess putty, filling the odd small hole. Re-writing is like removing a damaged brick and replacing it – you have to make room for it, then smoothe the joins so they don't show.
Tiffle
This is where I deal with 5). It's the beauty treatment – clarify, tighten, exfoliate, buff.
Word of warning here: this can go too far. From my past:
ED     You said the book was nearly finished. Why isn't it on my desk?
ME     I'm just giving it a last tidy ….
ED     (howls) Stop tiffling.
Tiffling is where you can go through your book and replace one word or phrase with another because you like it better. This may be good if you a) know why and it's a good reason and b) you're consistent. If you replace 'silk' with 'satin' and then next day change it back, you're in a bad way.
Conclusion
That's the theory anyway. But it's a BIG book and I have miles to go before I sleep. So I'd be very grateful for suggestions.
Recent contributors to My Writing Process Blog Hop
Christina Hollis    Bee-keeper and best selling author of historical fiction and M&B Modern Romance/Harlequin Presents christinahollis.blogspot.co.uk  
Jean Bull has loved books all her life.  She has worked in everything from teaching to the hotel industry and lived all over the UK, which has inspired her writing. jeanbullswritingblog.blogspot.co.uk/ 
Margaret Mayo author of scores of successful category romances for Harlequin Mills & Boon margaret-mayo.com/blog/
To come:
Cara Cooper writes short stories for women's magazines, and novellas for People's Friend, My Weekly and Ulverscroft. caracoopers.blogspot.co.uk
Back in 2007 or so, the Romantic Novelists' Association started to plan the 50th anniversary celebrations. In 2010 we wanted a celebratory book of short stories by current members, a memoir drawn from the archives and a cracking conference in historic Greenwich.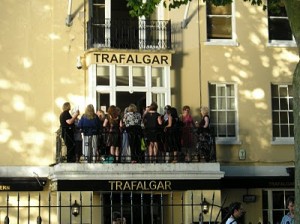 BUT – we also wanted copies of every book that had ever won Romantic Novel of the Year. And we were missing a lot. Over time, I rounded up most, but one remained outstanding: Cat on a Broomstick by Joanne Marshall. It was joint winner with two others, Thea by Margaret Maddocks and Broken Tapestry by Rona Randall, in 1970 .
Eventually, I chased it down to a condensed version published by Woman's Weekly library, available from Australia. When it arrived I found it was a true period piece, a sort of Commonwealth edition – 'Australia 20c. New Zealand 20c. South Africa 20c. Canada 35c. Rhodesia 20c. Nigeria K15. Malaysia 60c. Malta 7c.5.' It was also tiny – 18cms X 11 cms and about 0.4 cms thick.

But the book itself had disappeared totally. I suppose it wasn't surprising. I doubt if it had had much of a print run. The publisher, Herbert Jenkins, had already announced that it was discontinuing its romance line by the time the award was announced. Boots lending library had gone and public libraries were buying fewer and fewer commercial romances.  When Diane Pearson and I finally went to print in 2010 with Fabulous at Fifty, the RNA's memoir, we had to confess that we had drawn a blank on finding it. I entered the title on my wish list at www.bookfinder.com and forgot about it.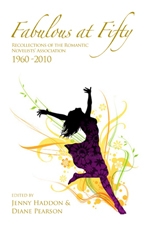 Then, suddenly, this month, a notice turned up in my In Box.  A second hand bookshop had a copy available. Did I want it? Gimme!
The copy had, not surprisingly, come from public library stock. So very many thanks to Staffordshire Country Library for looking after it so well and then releasing it for resale. The books advertised on the back of the beautifully conserved jacket bounced me back in time to a simpler, less suspicious age. For instance, top model Jill in Eve Armstrong's Turn Left from Mermaid Street is 'too innocent to recognise evil when she encounters it.' One hears 'eville'  like David Jacobs's fruity tones pronouncing 'The World in Perille' in the fabulous reruns of Journey Into Space on Radio 4 Extra.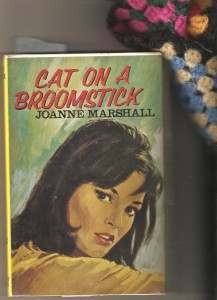 In Cat on a Broomstick, the heroine, Kate, is a television producer whose work has gone stale because, as we find out on page 3, her colleague fiancé has moved on to another woman. An understanding boss sends her off round the country in search of  'another serial, something with history, a flavour of the past. Bring some old barbarian back to life.'  Thus adjured, Kate – who still lives with Mother and Father – packs her typewriter and Shakespeare into her white mini and sets off for a Scottish island which seems to call to her from the page of an atlas.  And in 6 pages, we're on the road, with three good outline characters:  witchy Kate; chilly, conventional fiancé Neville; tweedy eccentric boss about whom we are given more than a hint that he's attracted to our unaware narrator heroine.
This is definitely school of Mary Stewart – a great feeling for landscape, a touch of Gaelic otherworldliness, middle class good manners, a sensible, well-educated heroine with a serious job and a hero who is comprehensively In Charge.  Well, he's going to be Laird one day.  The first person narrative is heavily inter cut with vivid contemporaneous dialogue. A woman who helps you out is 'a brick'. An irritating young man is 'a clot'.The plot races along to end its 60,00 words or so with as many pairings as a Shakespeare comedy.
Anne Rundle was an RNA stalwart for  most of her writing life. She seems to have come up through the RNA's New Writing Scheme and won the Netta Muskett award, as it was then called, with her first full length novel. She had several pen names:  Anne Rundle, Joanne Marshall, Marianne Lamont, Alexandra Manners all have their own entries on Goodreads. As Joanne, she won Romantic Novel of the Year again, on her own this time, in 1971 with Flower of Silence published by Harlequin Mills & Boon. This still remains the only time that a book produced by the iconic romance publisher has won the award. She wrote historical as well as contemporary and gets an entry in the Gothic Novels of the Twentieth Century: An Annotated Bibliography by Elsa J Radcliffe.  Like me, Ms Radcliffe was impressed by her 'simple and direct style' and noted 'some nice observations regarding human relationships' which she contrasts with melodramatic characters and plot in the Victorian ghost-and-gentry-thriller-romance Candles in the Wood by Alexandra Manners.
Just a curiosity, you may. Nobody wants to read that stuff these days. And if they did, they wouldn't be able to find it. Well, try the links on Goodreads, or put up a wish list on Bookfinder and see.
I got lucky. It's been a blast. And the RNA's 50th Anniversary Project is now complete. Who would have thought it?