Back in 2007 or so, the Romantic Novelists' Association started to plan the 50th anniversary celebrations. In 2010 we wanted a celebratory book of short stories by current members, a memoir drawn from the archives and a cracking conference in historic Greenwich.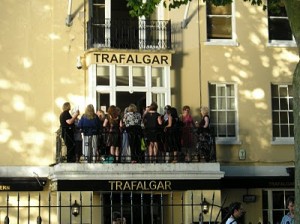 BUT – we also wanted copies of every book that had ever won Romantic Novel of the Year. And we were missing a lot. Over time, I rounded up most, but one remained outstanding: Cat on a Broomstick by Joanne Marshall. It was joint winner with two others, Thea by Margaret Maddocks and Broken Tapestry by Rona Randall, in 1970 .
Eventually, I chased it down to a condensed version published by Woman's Weekly library, available from Australia. When it arrived I found it was a true period piece, a sort of Commonwealth edition – 'Australia 20c. New Zealand 20c. South Africa 20c. Canada 35c. Rhodesia 20c. Nigeria K15. Malaysia 60c. Malta 7c.5.' It was also tiny – 18cms X 11 cms and about 0.4 cms thick.

But the book itself had disappeared totally. I suppose it wasn't surprising. I doubt if it had had much of a print run. The publisher, Herbert Jenkins, had already announced that it was discontinuing its romance line by the time the award was announced. Boots lending library had gone and public libraries were buying fewer and fewer commercial romances.  When Diane Pearson and I finally went to print in 2010 with Fabulous at Fifty, the RNA's memoir, we had to confess that we had drawn a blank on finding it. I entered the title on my wish list at www.bookfinder.com and forgot about it.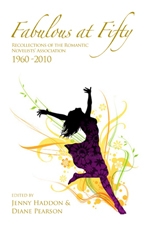 Then, suddenly, this month, a notice turned up in my In Box.  A second hand bookshop had a copy available. Did I want it? Gimme!
The copy had, not surprisingly, come from public library stock. So very many thanks to Staffordshire Country Library for looking after it so well and then releasing it for resale. The books advertised on the back of the beautifully conserved jacket bounced me back in time to a simpler, less suspicious age. For instance, top model Jill in Eve Armstrong's Turn Left from Mermaid Street is 'too innocent to recognise evil when she encounters it.' One hears 'eville'  like David Jacobs's fruity tones pronouncing 'The World in Perille' in the fabulous reruns of Journey Into Space on Radio 4 Extra.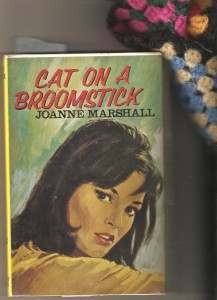 In Cat on a Broomstick, the heroine, Kate, is a television producer whose work has gone stale because, as we find out on page 3, her colleague fiancé has moved on to another woman. An understanding boss sends her off round the country in search of  'another serial, something with history, a flavour of the past. Bring some old barbarian back to life.'  Thus adjured, Kate – who still lives with Mother and Father – packs her typewriter and Shakespeare into her white mini and sets off for a Scottish island which seems to call to her from the page of an atlas.  And in 6 pages, we're on the road, with three good outline characters:  witchy Kate; chilly, conventional fiancé Neville; tweedy eccentric boss about whom we are given more than a hint that he's attracted to our unaware narrator heroine.
This is definitely school of Mary Stewart – a great feeling for landscape, a touch of Gaelic otherworldliness, middle class good manners, a sensible, well-educated heroine with a serious job and a hero who is comprehensively In Charge.  Well, he's going to be Laird one day.  The first person narrative is heavily inter cut with vivid contemporaneous dialogue. A woman who helps you out is 'a brick'. An irritating young man is 'a clot'.The plot races along to end its 60,00 words or so with as many pairings as a Shakespeare comedy.
Anne Rundle was an RNA stalwart for  most of her writing life. She seems to have come up through the RNA's New Writing Scheme and won the Netta Muskett award, as it was then called, with her first full length novel. She had several pen names:  Anne Rundle, Joanne Marshall, Marianne Lamont, Alexandra Manners all have their own entries on Goodreads. As Joanne, she won Romantic Novel of the Year again, on her own this time, in 1971 with Flower of Silence published by Harlequin Mills & Boon. This still remains the only time that a book produced by the iconic romance publisher has won the award. She wrote historical as well as contemporary and gets an entry in the Gothic Novels of the Twentieth Century: An Annotated Bibliography by Elsa J Radcliffe.  Like me, Ms Radcliffe was impressed by her 'simple and direct style' and noted 'some nice observations regarding human relationships' which she contrasts with melodramatic characters and plot in the Victorian ghost-and-gentry-thriller-romance Candles in the Wood by Alexandra Manners.
Just a curiosity, you may. Nobody wants to read that stuff these days. And if they did, they wouldn't be able to find it. Well, try the links on Goodreads, or put up a wish list on Bookfinder and see.
I got lucky. It's been a blast. And the RNA's 50th Anniversary Project is now complete. Who would have thought it?
It is April. I like April.
Chilly old T S Eliot called it the cruellest month, 'breeding lilacs out of the dead land'. Cheerier poets thought otherwise. Chaucer welcomed the month's 'shoures soote'. And my dear Robert Browning, enjoying married life with his personal Andromeda amid Florentine palaces, politics and dramatic past, still gave himself up to purest homesickness when April stirred its stumps.
Oh, to be in England now that April's there
And whoever wakes in England sees, some morning, unaware,
That the lowest boughs and the brushwood sheaf
Round the elm-tree bole are in tiny leaf,
While the chaffinch sings on the orchard bough        
In England—now!
Me? April always reminds me that in one of my very best fantasy lives I am a gardener.
It leaks through into my real life a bit. I plant seeds every year. Indeed, I acquire them from parks and gardens, nurture them in dark places and then nurse them and mutter over them and generally comport myself like a real gardener. But, of course, with only pots to transplant them into, my success rate is not high.  But just sometimes I receive a gift from the universe.
At the end of last year, I threw into pots, very late, a few bulbs of I knew not what. And April has given me
I don't deserve it.  But today I am a Fortunate and Happy Person.
Let's hear it for April!
It never rains but it pours. For months I don't think about Social Media. Then everyone at the Women's Fiction Festival in Matera was talking about social media as the key to discovering books you want to read. On Saturday I went to Oxford to hear sound (near inspirational, indeed) advice from mega book blogger Barbara Vey. And then today Nicola Morgan posts a survey on people's blog-reading habits. And I start to think . . .
I heep six honest serving-men
(They taught me all I knew);
Their names are What and Why and When
And How and Where and Who.
What:  blogs I long favour, blogs I'm introduced to by friends and colleagues; blogs I find by serendiptious links.
Why: to be intrigued, to laugh, to learn, to relax, to find information I want,  to catch up with people who interest me, displacement activity (currently much reduced, see below). Sometimes am rewarded by being moved.
When: earlyish morning, sometimes late evening, Since  I started working away from my desk (Other People's Building Works, ask no further) I'm  online less than an hour a day.
How: specific search or wandering. Not signed up for any, nor visit any blog regularly. Will go to some, like Word Wenches, when I want a break that will make me think, make me laugh and last as long as my coffee. Most blogs I read are less of a time investment, though.
Where: at my desktop. Don't like phone surfing, it makes me miss train stops. No Wifi access where I work.
Who: Ah. For play: quite a lot of authors because they write nicely but not if they're boring on about writing problems. When I'm in blogreading mode I want to get away from that nagging anxiety. I like the way some authors write about their work, life and ideas like Liz Fielding  Mark Chisnell.  Or blogs I've fallen across and enjoyed, like contemporary trumpeter and urban farmer Brendan Ball who led me to the classic video on the truth about Working with Singers by one of  my favourite groups, I Fagiolini; or  Pepys Diary  for visiting another world, where the anxieties were quite, quite different.
For work:  Source blogs like Best of World War 2  that touch on research for my Work in Progress; they're really indices more than anything else ; Author, publisher, editor blogs that are practical and upbeat.
Book review blogs are work AND play. Sometimes I'm hoping to learn stuff I can use in my own career but mostly I want to  make discoveries of new authors I'll enjoy. Very keen on Mrs Peabody Investigates for the latter. But then, I don't write crime. Yet.
BUT – I'm not absolutely sure that I would read my blog if I didn't write it.
AAAARGH!
Advice, anyone?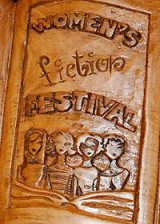 Last week I was in Matera, Italy (a UNESCO World Heritage Site of which more in another post) at the 10th International Conference on Women's Fiction. It was amazing.
The Conference, which is part of a Festival celebrating women's fiction, is the brainchild of  translator/award-winning author Elizabeth Jennings, who lives in Matera, and editor/publisher/agent Maria Paola Romeo  from Milan. And oh boy, was it international. There were authors from the USA, Italy, the UK, Australia, South Africa. There was simultaneous translation between Italian and English. There were writers, agents and publishers from the USA, Italy, the UK, France and Germany.
Most of the Conference was conducted in the form of panels, so we got a range of views and experience. It all felt very spontaneous and, as a result, startlingly honest. It must have been a real pain for the translators, though; they worked their socks off and with minimal prepared content. I take my hat off to them, especially as they donated their services free. That's dedication to books!
Two issues emerged and stayed at the forefront for the whole conference: the hybrid author and 'discoverability'. Hotly followed by the implication that authors now have to be serious business people. No living in a cottage, like Elizabeth Goudge, God bless her, and letting Other People sort out contracts, money and the practicalities of life.  Good for the backbone of course, but more or less daunting for the author, depending on your habits of mind.
The Pillars of Wisdom or at least Commercial Fiction
Elizabeth Jennings, chairing the first panel, said that three years ago there were three pillars of the publishing world: Writer-Agent-Publisher. Stephane Marsan, founder of French publisher Bragelonne, later added a fourth: Bookseller. It was only very late in the conference that someone else (sorry, forget who) mentioned, in passing, the Reader. The European voices tended to agree that readers were diminishing in number, though I'm not sure whether that was just of print books. Everyone pointed out that, although e-readers were growing increasingly popular, once a book or short story was available digitally it could be read on other devices, such as laptops, tablets and even smartphones. The next generation of readers may find these a better fit with their daily lives, I suppose.
The hybrid author   
One man in his time plays many parts … In the case of writers, in the new digital age you may find that you want to self-publish your first venture(s), but also contract with a small press for something that has a definite audience but you can't quantify it; digital first(small or large publisher) for an experiment;  and, maybe, a big mainstream publisher for your mega-reach books. And you may want them all at the same time. Publishing, as everyone said, is changing. Fast.
Digital publishing  seems now to be driving the new commercial fiction market in the USA. The consensus was that Europe is two to three years behind but going in the same direction.
Discoverability
The upsurge of digital publishing has inevitably caused a traffic jam, to put it at its mildest. With all those books out there, how does the Reader find the book he/she actually wants to read? He/she can still browse, in real bookshops and the on-line stores, both of whom will deliver recommendations. The Amazon rankings increase an author's visibility — but you have to take care to select carefully the categories in which you place your novel and also choose your time window carefully (there you go, author-businessperson again). The self-publisher will probably  only get a visible place in the rankings for a short time.
However, the latter is true for all publishers, big, small and self. Crowding out has hit the book world big time. You may get a contract with a big publisher but they haven't cracked this problem, any more than has Euphemia Gutbucket, publishing Forty Years in the Rain Forest, my life as rubber planter's wife. 
Community
And this is where I pay tribute to the big thing I took away from Matera – the willingness of everyone there to help each other out. From Elizabeth herself, devoting what must be massive writing time to putting together this programme, to the agents, publishers, translators and other authors, I was humbled by the generosity of everyone, all cheerfully sharing the problems they had identified and some of the solutions they were trying.  In particular I am grateful to fellow participants  David Gaughran, who convinced me that it was possible to let people know about your books without having a personality transplant and Shannon Mckenna, who hit the New York Times bestseller list on the Friday of the Conference. That achievement reminded everyone that there are Readers out there and sometimes they just love your book.  Phew!
I don't normally make New Year Resolutions but this one has been growing in me for a while.  Unexpected pleasures are a gift from the universe.  I should take the time to share them.  So this is my first.
At a point in 2012 when life was full and sad, my good friend Anne Gracie sent me the present of a memoir by Eloisa James, who I knew only as a US historical romance author. It was about a year in which James lived in Paris with her family.
Now, I have to admit I'm not a fan of Paris. My pen friend lived in a suburb (Plessis Robinson) and pretty much every trip we made into the city was attended by one of those humiliations which the Parisians are so good at dealing out. I admit that the agony can still sneak up on me, sandbag in hand, when I'm on the underground sometimes and my mind is drifting.
I don't hate France, you understand. I enjoy Bordeaux, love Beaune, was enchanted by Cannes when I went there with Anne McAllister researching one of her books. But Paris?
There used to be a book of classic photographs to which some wit had appended appropriate captions. One of the pictures was a gargoyle from Notre Dame, a bitter, bored, resentful devil of a gargoyle, with its chin in its despairing hands and its tongue out. The caption?  I hate Paris.  I was with that gargoyle every step of the way.
Well, Eloisa James has changed all that.
She went to Paris with open eyes and an open heart and she has found treasure. She writes delectably (and with truly Christian lack of envy) about the artisan chocolate delights, the elegance of the women, odd corners she finds and the food, some of which is still melting away in my imagination, some of which is stomach-turning. She encounters a superior waiter of the species I remember with a shudder and she and her husband, responsible parents that they are, retreat from the restaurant to scream at each other out of sight of their offspring.
The book started life as a blog and most of the entries are effectively snippets, intensely observed, often witty, sometimes heartfelt, encapsulating a moment as perfectly as a sonnet.  This is a book you can genuinely read in an odd moment, when you need respite or you're waiting for bread to rise, and take something of substance and delight from it.
She takes longer to ponder bigger things. The neurosis that I suppose all writers share about losing words leads her to decide to start memorising poetry again, which I shall emulate. Her first is Auden's Lonely Betters,which hitherto I would have said I mildly disliked, along with what I know of Auden, it has to be admitted.  But reading it after James's thoughts on her own language and her father, the poet Robert Bly, gave it a resonance which will have me return to the poem, I know.
A surprising, thoughtful and charming book. I loved it.
Still not sure about Paris, though.
Big muttering started on the Net after the Harrogate Crime Writing Festival, six weeks or so ago. Stephen Leather, best selling thriller writer, sat on a panel discussing e-books and said, as reported by The Daily Telegraph, 'that he uses pseudonymous accounts in online discussion forums to create a "buzz" about his work'. (They're called sock puppets, apparently.) It didn't go down well with his audience. Some of them dug around the Internet for evidence and found that the practice was nastier than simply lauding his own work — and, it now emerges,  more widespread than you would expect, too.
It has unsettled me horribly.  These are fellow authors, you understand. This is my team. I didn't think we did things like that.
I'm not well placed to make a judgement as to whether this is just the brutalist school of marketing or sufficiently misleading to be illegal – and, if the latter, who would be guilty of the criminal offence: the disguised author for perpetrating?  Amazon for publishing?  Could there be a class action by deceived readers? As someone who takes no notice of stars and hardly ever reads Amazon reviews (even of my own books, though that's probably cowardice) I can't really claim to have been materially misled pre-purchase.
So why does it nag away at me?  After a great deal of restless arguing with myself, I think there are four reasons:
1    Partly it's the recoil from turning over a sun-warmed stone and finding maggots underneath. Now, some of my best friends are authors. I know that even the nicest of us have a touch of darkness. We can be savage when we're writing and it isn't going well.  And completely indifferent to the world, the flesh and the devil — not to mention our nearest and dearest — when the writing is on a roll.  But setting up a bunch of masks and playing different parts, sometimes even talking to another of our own masks – that's just creepy.  Especially when you think of the sheer time it must take.
2    Sympathetic embarrassment. OK, I have a low embarrassment threshold, but for me this is just anguish. I feel for these guys standing naked and shivering in the spotlight of the Internet and I wish with all my heart that they hadn't done it and they weren't.
3   Much more important, though, trashing other writers makes me wince and want to run away and hide. But it also bewilders me. I mean why?  Surely not out of rivalry? As Katie Fforde always says, people read more than one book. Because they read hers doesn't mean they aren't going to read mine too, if they like my sort of thing.  Out of spite? That's more than creepy, that's sinister, up there with stalking and writing poison pen letters. You imagine strange loners without much in the way of a social or inner life getting their jollies out of it, not people with imagination. Especially not successful people with imagination.
4    Alien alert. Short of Miss Piggy, which author can honestly stand up and say their book is the bees' knees, knocks everyone else into a cocked hat and is an absolute Must Read for the World? I can tell you which of my books I'm fondest of and possibly why – but I know a  load of faults in each and every one and probably there are a whole raft more than I haven't thought of yet. Getting the damned thing published has never turned off my inner editor, nor should it. These writers have Gone To The Bad. It has to be all the fault of the Internet, temptingly anonymous with the reach of an Asian Flu Virus. Hasn't it?
But then I remembered The Guru. Specifically, The Clicking of Cuthbert. PGW had seen this madness and set it down in its finest flower. I have set out the relevant bits below. The Vainglorious Author (a rising modern novelist from Russia) is attending a literary soiree rather than a full blown Harrogate festival but otherwise the parallel holds, I feel.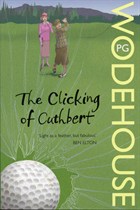 Vladimir Brusiloff's mouth opened, as he prepared to speak. He was not a man who prattled readily, especially in a foreign tongue. He gave the impression that each word was excavated from his interior by some up-to-date process of mining. He glared bleakly at Mr. Devine, and allowed three words to drop out of him.
"Sovietski no good!"
He paused for a moment, set the machinery working again, and delivered five more at the pithead.
"I spit me of Sovietski!"
Raymond Parsloe Devine was plainly shaken, but he made an adroit attempt to recover his lost prestige.
"When I say I have been influenced by Sovietski, I mean, of course, that I was once under his spell. A young writer commits many follies. I have long since passed through that phase. The false glamour of Sovietski has ceased to dazzle me. I now belong whole-heartedly to the school of Nastikoff."
"Nastikoff no good," said Vladimir Brusiloff, coldly. He paused, listening to the machinery.
"Nastikoff worse than Sovietski."
He paused again.
"I spit me of Nastikoff!" he said.
Vladimir Brusiloff proceeded to sum up.
"No novelists any good except me. Sovietski–yah! Nastikoff–bah! I spit me of zem all. No novelists anywhere any good except me. P. G. Wodehouse and Tolstoi not bad. Not good, but not bad. No novelists any good except me."
Well, it cheered me up a bit. But at least Vladimir Brusiloff didn't pretend to be Lamb Chop while he did it.
I have to admit that I was an Olympic skeptic. There are many reasons for this but I put its origins down to childhood trauma. I had a serious sportsman for a father.
Back in the last century he went to Berlin to represent the UK in an international table tennis duel which produced an ode from the then Manchester Guardian to: 'Five stalwart Englishmen, crossing the stormy ocean, To ping and to pong in Britannia's name'.  My mother cut it out and kept it. They broke up shortly afterwards.  It took several years and a World War before he forgave her. And, notwithstanding his being a lifelong Labour voter, I never saw him buy or read The Guardian. Though, of course, that could have been down to the quality of the cricket reporting, which was what forced him into the embrace of the Torygraph, an organ whose leaders regularly reduced him to apoplexy at the breakfast table. He also ran various distances, played cricket, hockey, tennis, squash and God knows what else.  
You will see that ours was a conflicted household. Sport was at the root of most of it.  
As a result, show me a man in sports togs with the gleam of battle in his eye and I take a swift side step and head for the hills until it's all over. Romantic hero? Nah, not a chance.    
Kate Lace has changed all that.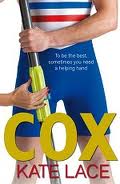 Now, I'll be honest, she's a mate of mine, so I was always going to read COX. And she's a good writer, so I expected to enjoy it. Did I expect to be swept away, horizons widened, world view changed? Well, no.  Yet half way through reading it, there I was, watching the Olympic rowing– punctuated by her excited tweets — live, with my heart in my mouth. And, I'll admit, the occasional tear in the eye too.
This is, quite simply, a lovely book.  We follow a group of young rowers through their local or college clubs, to national trials, culminating in the Olympics themselves. The punishing training regimes, the costs of backsliding, the sheer physical strains of the race itself, even when you're in peak condition, are fantastically vivid. And I never once disengaged, in spite of a lifetime of avoiding this stuff, because Kate Lace  absolutely made me buy into the world of the story and care what happened to her cracking cast of characters.
There are the hunks, of course — dark, brooding guy works his way through college and is innately hostile to rich, careless, manipulative sex god working his way through anything female;  and the gorgeous girls. And also, the quite nice, ordinary girls and the guys who don't make the cut and still have a pretty good time anyway.  They have flaws. They make dreadful misjudgements, about themselves and what they have to do to stay in the game. Earning a living isn't always easy. And nor is keeping a relationship going when you're really focused on your sport. You really feel for them. They also shag a lot and without benefit of whips and chains which, in the current literary climate, is a real pleasure.  You have a huge sense of completion (and a couple of bonus rewards) at the end of the story.
Above all, it's a load of fun. I hooted aloud more times than I can say. And I love the minor themes that run through the book, like the couple who are regularly surprised under tables in flagrante.  Did I say, these guys shag a lot? Well, they're in peak physical condition so it's only to be expected.
What is so clever is that what these rowers achieve and what they mess up can be translated across just about every field of human endeavour. For instance, there is a spine-tingling account of how you can work in absolute harmony with someone you think is pure poison; and a woman who wants something so badly that she won't try for it in case she misses, which made me wince with fellow feeling- as well as wanting to slap her; and the laughter and fellowship which get you through the good stuff and the bad.
So thanks to COX, I braced up and watched a race (or five or six), even though I knew most people were going to lose and it always makes my heart ache for their disappointment.  And by golly, it made me respect our sportsmen and women. I whinge because I labour mightily over a book for months and months and then someone comes along and tells me she finished it before the bathwater got cold. Yet these guys put their whole lives on hold for four years while they train for the Olympics and their chance to show what they can do is over in minutes, even seconds.
This is definitely a book to read by the pool with a large drink or three. Or on a crowded train. Or anywhere, really. The world will hold you and the characters will take you with them and maybe even change you a little. And you'll have a ball.
Back in May I went to a very jolly party, with Cornish pasties, in Waterstone's Kensington High Street to launch Liz Fenwick's debut novel,  The Cornish House. Since then I have read it twice and followed with fascinated admiration her blog about getting on the road to promote her book. Her energy and good humour about this daunting part of an author's life are an object lesson to a lot more of us than debut novelists, believe me.
The novel has made me think.  I gallopped through it on holiday, in between prowling rain-soaked bits of countryside in company with a Birdwatcher.  (Actually that sounds a lot grimmer than it was. The air was like champagne, even when the sun was hidden behind a roof of storm clouds,  and brief bursts of intense sunlight illuminated the landscape like a mediaeval Book of Hours.) It was definitely a book where I wanted to know what happened next —  and some of it I really didn't see coming, which is why I am walking on eggshells here not to reveal any spoilers.
But the first gallop left me unsatisfied. I wanted to read it again. Now I have and it was worth it.
Maddie Hollis is thirty-eight, childless and a new widow with an adolescent  stepdaughter, Hannah, for whom she is responsible. When the novel opens Maddie's husband, John, has been dead for 6 months and she is moving to the Cornish house of the title, which she has inherited unexpectedly from someone she has never heard of.  The house is neglected, Maddie is short of money and needs to start earning again (she is an artist) and her stepdaughter is foul-mouthed and furious. Enough, you would think, to make Maddie hit out in all directions. But, as Liz Fenwick movingly depicts, Maddie feels empty. And she's having nightmares from which her own screams awake her. 'Grief was supposed to lessen with time. That's what they'd told her but, instead of fading, each night she was haunted more than the night before.'
This is a book which sets its own rules. Just at the point at which I was thinking oh no, not another death, this could beat Midsummer Murders at its own game, I realised that the recurring doom in every story Maddie uncovers about people from the past absolutely reflects her own grief. Good things do happen — there is not one hunk but two, both of them interested in Maddie;  locals welcome the incomers and are consistently kind, teasing and inclusive. She responds, and so does Hannah;  but only fitfully. There is even a moment when Maddie has to suppress jealousy over the closeness of her sprightly neighbour and her husband. It rings painfully true. There are seasons to mourning, as there are to the year (and Liz Fenwick is very good on the changing Cornish landscape over the months of this story), and they can't be hurried, even though dealing with a poisonous teen, the pub and picnics still have to go on in another space in Maddie's head.
There is much that is life-enhancing, too: the run-down house, with its mysterious corners, the social life of the village,  its continuity over the centuries, Cornwall itself. Even Maddie's emotional turbulence is vivid evidence of the world turning: grief makes her heroic, problem-solving, opens her mind; it also plays hell with her judgement and turns her intermittently indecisive and obsessed.
Trying to give you a flavour of this book, I came up with somewhere between Daphne du Maurier and Miss Read. There is du Maurier's love of Cornwall and her sense of the chaotic, exhausting power of emotion. But du Maurier darkness is alleviated by Miss Read's gloriously normal gossip, feuds and neighbourly interference for good or ill.
Above all there is kindness, both trivial and profound. Ultimately this is a hopeful book– and also a healing one.
This week I joined the Fulham Women's Institute to talk about romantic fiction over the last 50 years. Predictably, a combination of lively questions and a (slight, very slight) tendency to beady-eyed obsessiveness on my part, bounced me off course into  general appreciative splurge.
So I never told them, as I had meant to, about one of my heroines. I had a great time, but I'm afraid I short-changed them. This is an apology and an attempt to supply the deficiency of my talk.
Lucilla Andews died on October 3rd 2006. The Romantic Novelists' Association had given her a lifetime achievement award barely two months earlier.  She had sold getting on for 3 million books round the world.  Drawing heavily on her own experiences as a nurse at St Thomas's during the War, she became what the Guardian newspaper described as "the brand leader of hospital romance". (Do you detect a hint of the patronising, perhaps?)
She was published in 11 languages. Her career spanned forty years.  For the first ten years of Public Lending Right in the UK she was in the top 50 authors borrowed from Public Libraries. She wrote 35 novels and an autobiography, No Time for Romance, which is an unforgettable account of wartime from the point of view of one of the ordinary people whose lives were utterly transformed by it.
She was left the sole breadwinner by her husband's illness very soon after marriage, when her only child was five months old.  For the rest of her life she earned her living from writing. The books and short stories ensured that her daughter had a stable, loving and stimulating home – and the sort of education that Lucilla had not had herself. Veronica went to Cambridge, read history and became communications adviser to the Labour Party  among others–  a towering presence, according to her obituary in The Guardian. Veronica died in 2002. It must have been dreadful.
But when I saw her in Edinburgh, on the occasion of that Lifetime Award, Lucilla Andrews talked about Veronica's achievements and the fun they had together, not the loss. She made it clear, too, that she, personally, was passionate but never doctrinaire about women's rights. She had a right to be. She had, after all, paid her dues.
Her writing also made not inconsiderable amounts of money for publishers and agents, at various times. This, you would say, was a woman of energy and intelligence, of vision and some moral force. Was she listened to with respect?
She was not.
In 1955 she suggested to her publisher that it would be timely to make a television series based on her imaginary hospital St. Martha's.  A hospital was, she argued, a microcosm of society; it was full of drama as well as "humour, absurdites, incompatible temperaments and love affairs".  Her books were successful. Her writing skills were proven. Above all, her knowledge of the background was unrivalled.  (She did not say this, you understand.  She may have thought it was self evident, as it certainly should have been.) As she later said in her autobiography, she drew on her nursing experience "without falsification". Her former colleagues on the Nursing Times, said that her novels were "faultless in their settings … stoical, spirited, humane."  Doesn't sound trivial, does it?
Television needed drama. The time was surely right.  So what happened, when she suggested her hospital series?
Flat rejection.  Specifically, "Oh no dear, that may do for women's magazines but it won't do for television." Men, you see, watched television. They would not be interested in little stories for women.
And then came . . . Dr Kildare; Emergency Ward Ten; Angels; blah, blah, blah … right up to our own day of Casualty; Grey's Anatomy, Green Wing and dozens of others.
Did anyone ever say to her, "Sorry Lucy, you were right?"
Nope. Even though, according to a Harrap's representative from the old days who made it to the Memorial Service, the office was waiting for her ms to arrive so that they could whisk it off to printing, with minimal editorial, to get it out there and earning. But they never thought she was worth listening to.  It makes me so angry.
And these days she is largely forgotten, which is a waste. Her accounts of wartime, whether fictional or memoir, are electrifying. If you want to know what it was like to be a nurse in St Thomas's during the Blitz, read Frontline 1940. The hero, an American journalist, has been present during the fall of Paris and he expects London to fall too. This is what it was like to expect to be defeated and hope to hang on for just one more day.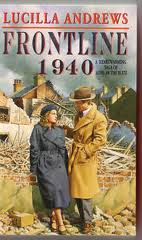 Please read it, Fulham WI and World.  It's worth it.
On Thursday the UK Romantic Novelists' Association presented the RoNA to Jane Lovering for Please Don't Stop the Music, published by British independent publisher Choc-Lit.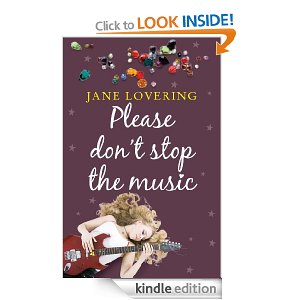 On Friday I read it. It had previously won the romantic comedy section of the awards, so I thought I knew the ball park. I was wrong.
It has the tightly knit cast of friends (and the odd foe) that we have come to expect from romantic comedy, some of which is sometimes called chick lit. It is witty, perceptive, with some very good one-liners, including the opening sentence: 'You know you're in for a bad day when the Devil eats your last HobNob.' And at that point it waves goodbye to Bridget Jones and her mates.
The important thing is that these girls have no safety-net. You look in vain for the aged Ps, who need to be placated or avoided but ultimately may provide a refuge in the shape of childhood bedroom and in-before-midnight. There's no flinching away from the smug marrieds, no partner hunting, not a randy boss or backstabbing colleague in sight, no alcoholic clubbing after work. These people are self-employed and hanging on by their fingernails to a roof over their head. Welcome to Cameron's Britain. They're problem solvers, they help each other out, but it's not an easy life and they don't know everything there is to know about each other.
You feel that, even as your guide and heroine, first person narrator Jemima Hutton, takes you on a brisk, witty, courageous tour of her life. That's her life now.  Because Jemima has secrets and she's not the only one.
The plot, and it is a good one, is rooted in those secrets and I'm not giving them away. I'll just say that the hero is gorgeous — and it takes Jemima a surprising amount of time to notice. I got there the moment she mentioned his jeans.  And he's got a lot of baggage. Jemima herself could give the Duchess of Malfi a run for her money in the tortured backstory department. The local habitation is York, brilliantly evoked. And the happy ending resolves really big issues believably.
Jane Lovering's voice is lively and the book positively swoops along.
I read it in a sitting. Enjoy!