Such sad news that wonderful Mary Stewart died on 9 May. I have been watching again the interview she gave to Off the Page on Scottish television.
In 2006 the Romantic Novelists' Association gave Mary Stewart a Lifetime Achievement Award. I collected the tributes. From my own archive, as far as I can tell, this is what we told her then.
The Romantic Novelists' Association salutes
Mary Stewart
and says thank you for
hours of wonderful reading
and
for inspiring so many of us
18th August 2006
From RNA Members
Diane Pearson writes
Mary Stewart, almost single handed, brought the gothic romantic novel back into contemporary popularity, giving it a unique new quality that was essentially her own. Her books are now household names.
Diane Pearson, editor and author, wrote international best sellers 'Czardas' and 'Summer of the Barshinskys', among others, and [is] was President of the Romantic Novelists' Association.
Jan Jones writes
"It was the egret, flying out of the lemon-grove that started it."
That, the opening line from The Moonspinners, sums up what Mary Stewart means to me. The to-die-for sense of place expressed in just a few skilful words. The delicious hint of adventure and romance. The promise of a glorious few hours, curled up with one of my favourite authors, oblivious to the outside world.
I could read Mary Stewart's books over and over – and every time I do, I'm transported again to that precious state where nothing else matters except what you are reading.
Thank you, Mary.
Jan Jones is the author of 'Stage by Stage', winner of the 2005 Joan Hessayon Award for a First Novel and many others,most recently 'Fairlights'.
Pamela Hartshorne writes
Mary Stewart's writing is such a model of intelligence and good taste, that I can't help feeling she would have little patience with gushing appreciation . … but it is hard not to gush when I think about the enjoyment she has given me as a reader, and the influence she has had on me as a writer. Impossible, too, to choose which of her books is my favourite. I can narrow it down to six (Madam Will You Talk?, This Rough Magic, My Brother Michael, The Moon-Spinners, Airs Abover the Ground and Nince Coaches Waiting) but no further. Every time I read these books, I find something new, something that strikes a chord, something that makes me think "What must it be like to be able to write like that?"
I love the intelligence and integrity of her characters, the way her heroes are barely described and yet are so extraordinarily attractive, but I think what draws me to these books most particularly is the sense of place they evoke, so that I fell when I close the book as if I have actually been on a Greek mountainside, or swum with a dolphin in Crete. And as for the food . . . ! Anyone who has ever read Madam, Will You Talk? remembers the wonderful meal Charity shares with Richard Byron in the Stewart fans, comparing it with the midnight feast after the Easter Ball in Nine Coaches Waiting or the dinner at Delphi in My Brother Michael, all remembered as vividly as if we had eaten them ourselves. It is thirty-five years since I first read a Mary Stewart, but her lucid, luminous prose remains a matchless source of pleasure and inspiration.
Pamela, who also writes as Jessica Hart, is a multi prize winner. In 2005 she won the US RITA for Best Traditional Romance for Christmas Eve Marriage and in 2006 the RNA Romance Prize for Contracted Corporate Wife. Her  most recent novel is 'The Memory of Midnight'.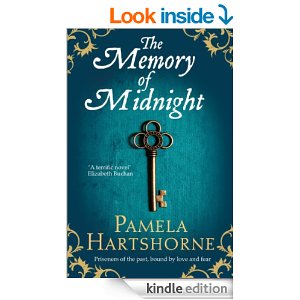 Marina Oliver writes
Mary Stewart is a storyteller par excellence. Not only can she evoke great tension, her plots are intricate and satisfying. She transports the reader to the places she describes so vividly, that I can imagine myself on a Greek hillside, or a Lebanese valley, smelling the flowers, feeling the heat.
She is also versatile, with books set in different eras and today. The backgrounds are always so convincing. A friend from my reading group who read one of her novels said to me, 'It's so good to read a real book.'
Marina Oliver, former Chairman of the Romantic Novelists' Association, is writer, editor, tutor and reviewer. She has written 'A Cut Above the Rest' and many other novels.
Jenny Haddon writes
There are some authors whose words walk with you throughout your life, encapsulating a moment, a feeling. 'Ah yes, I recognize that,' you say, for a moment completely aware. From Nine Coaches Waiting:
The air was very still. Below me, in the valley-depths where the river ran, I could see, quite distinctly now, the pale drift of mist. The owl cried again once, very sadly, form the wood. There was a strong wet smell of earth and growing things; the smell of spring . . . not softness, not balm-and-blossoms, but something harsh and sharp that pierced the senses as the thrust of new life broke the ground. The cruellest month, breeding Lilacs out of a dead land . . . yes that was it. That was it. Not for the first time I was sharply grateful to Daddy for making poetry a habit with me. The best words in the best order . . . one always got the same shock of recognition and delight when someone's words swam up to meet a thought or name a picture. Daddy had been right. Poetry was awfully good material to think with.
So is Mary Stewart.
Jenny Haddon has written forty something books, mainly under the pen name Sophie Weston, most recently 'To Marry a Prince' by Sophie Page. She [is] was then Chairman of the Romantic Novelists' Association.
What a writer we have lost.
12 Responses to "Mary Stewart RIP"