Archive for the 'Book search' Category
Back in 2007 or so, the Romantic Novelists' Association started to plan the 50th anniversary celebrations. In 2010 we wanted a celebratory book of short stories by current members, a memoir drawn from the archives and a cracking conference in historic Greenwich.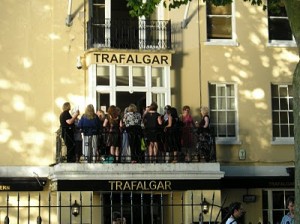 BUT – we also wanted copies of every book that had ever won Romantic Novel of the Year. And we were missing a lot. Over time, I rounded up most, but one remained outstanding: Cat on a Broomstick by Joanne Marshall. It was joint winner with two others, Thea by Margaret Maddocks and Broken Tapestry by Rona Randall, in 1970 .
Eventually, I chased it down to a condensed version published by Woman's Weekly library, available from Australia. When it arrived I found it was a true period piece, a sort of Commonwealth edition – 'Australia 20c. New Zealand 20c. South Africa 20c. Canada 35c. Rhodesia 20c. Nigeria K15. Malaysia 60c. Malta 7c.5.' It was also tiny – 18cms X 11 cms and about 0.4 cms thick.

But the book itself had disappeared totally. I suppose it wasn't surprising. I doubt if it had had much of a print run. The publisher, Herbert Jenkins, had already announced that it was discontinuing its romance line by the time the award was announced. Boots lending library had gone and public libraries were buying fewer and fewer commercial romances.  When Diane Pearson and I finally went to print in 2010 with Fabulous at Fifty, the RNA's memoir, we had to confess that we had drawn a blank on finding it. I entered the title on my wish list at www.bookfinder.com and forgot about it.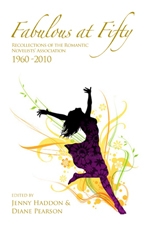 Then, suddenly, this month, a notice turned up in my In Box.  A second hand bookshop had a copy available. Did I want it? Gimme!
The copy had, not surprisingly, come from public library stock. So very many thanks to Staffordshire Country Library for looking after it so well and then releasing it for resale. The books advertised on the back of the beautifully conserved jacket bounced me back in time to a simpler, less suspicious age. For instance, top model Jill in Eve Armstrong's Turn Left from Mermaid Street is 'too innocent to recognise evil when she encounters it.' One hears 'eville'  like David Jacobs's fruity tones pronouncing 'The World in Perille' in the fabulous reruns of Journey Into Space on Radio 4 Extra.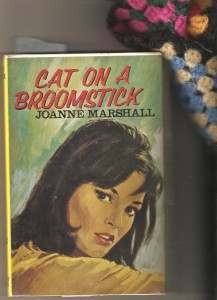 In Cat on a Broomstick, the heroine, Kate, is a television producer whose work has gone stale because, as we find out on page 3, her colleague fiancé has moved on to another woman. An understanding boss sends her off round the country in search of  'another serial, something with history, a flavour of the past. Bring some old barbarian back to life.'  Thus adjured, Kate – who still lives with Mother and Father – packs her typewriter and Shakespeare into her white mini and sets off for a Scottish island which seems to call to her from the page of an atlas.  And in 6 pages, we're on the road, with three good outline characters:  witchy Kate; chilly, conventional fiancé Neville; tweedy eccentric boss about whom we are given more than a hint that he's attracted to our unaware narrator heroine.
This is definitely school of Mary Stewart – a great feeling for landscape, a touch of Gaelic otherworldliness, middle class good manners, a sensible, well-educated heroine with a serious job and a hero who is comprehensively In Charge.  Well, he's going to be Laird one day.  The first person narrative is heavily inter cut with vivid contemporaneous dialogue. A woman who helps you out is 'a brick'. An irritating young man is 'a clot'.The plot races along to end its 60,00 words or so with as many pairings as a Shakespeare comedy.
Anne Rundle was an RNA stalwart for  most of her writing life. She seems to have come up through the RNA's New Writing Scheme and won the Netta Muskett award, as it was then called, with her first full length novel. She had several pen names:  Anne Rundle, Joanne Marshall, Marianne Lamont, Alexandra Manners all have their own entries on Goodreads. As Joanne, she won Romantic Novel of the Year again, on her own this time, in 1971 with Flower of Silence published by Harlequin Mills & Boon. This still remains the only time that a book produced by the iconic romance publisher has won the award. She wrote historical as well as contemporary and gets an entry in the Gothic Novels of the Twentieth Century: An Annotated Bibliography by Elsa J Radcliffe.  Like me, Ms Radcliffe was impressed by her 'simple and direct style' and noted 'some nice observations regarding human relationships' which she contrasts with melodramatic characters and plot in the Victorian ghost-and-gentry-thriller-romance Candles in the Wood by Alexandra Manners.
Just a curiosity, you may. Nobody wants to read that stuff these days. And if they did, they wouldn't be able to find it. Well, try the links on Goodreads, or put up a wish list on Bookfinder and see.
I got lucky. It's been a blast. And the RNA's 50th Anniversary Project is now complete. Who would have thought it?